---

The police have taken the relevant parts and ash for further investigations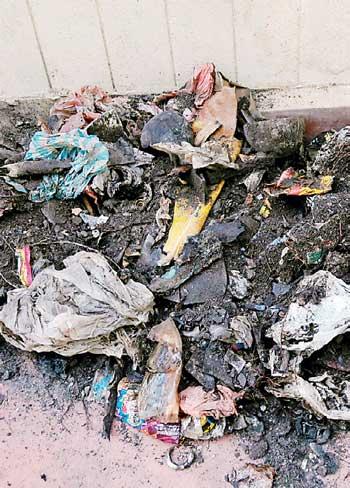 By Krishan Jeewaka Jayaruk
The Criminal Investigations Department (CID) officials have recovered burnt parts of the bloodstained uniforms which were worn by the suspected police officers of the Southern Province Senior DIG's Unit that were involved in the abduction and killing of two Rathgama businessmen, from an abandoned tank behind the Susiri Walawwa in Wellamadama, Matara on Saturday morning.
It was revealed in the CID Investigations that the uniforms have been destroyed by fire by pouring diesel over them.

This place was discovered by the CID after interrogating SI Wiraj Madushanka who has been arrested on suspicion.

He has confessed that all the bloodstained uniforms have been destroyed by setting fire in a tank behind the Susiri Walawwa.

The businessmen had been assaulted in a house in the Akmeemana area in Galle and the bodies were taken to Walasmulla reserve and burnt thereafter.

CID said that Police Inspector Kapila Nishantha De Silva who has been taken into police custody on suspicion has been residing temporarily in a room of this Walawwa which is 140 years old. The owner of this Walawwa resides in Colombo and he has provided boarding facilities to police officers free of charge.

CID has discovered a part of raincoat, a part of mobile phone and parts of burnt uniforms from a garbage pit.

The police have taken the relevant parts and ash for further investigations.

A team of Police Officers including Chief Inspector Munasinghe are conducting investigations. In addition, Officers of the Crime Unit of Matara are also providing assistance.
All the bloodstained uniforms have been destroyed by setting fire