---
Says CC rejected names of 14 judicial officers without any given reason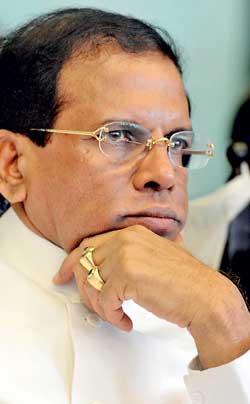 By Yohan Perera and Ajith Siriwardana
President Maithripala Sirisena said yesterday the Constitutional Council (CC) had gone above all three arms of the government; the Legislature, the Executive and the Judiciary.
He made this remark during an adjournment debate on the CC held last evening in Parliament.

He said the CC had rejected 14 names of judicial officers – without any given reason – which he sent to be appointed to the Supreme Court and the Court of Appeal.

"These 14 officers keep asking me as to why they were rejected. They come to me because they cannot go before the CC. I keep wondering if I don't have any right to know the reasons for this rejection because I am the Executive President of the country. As per the 19th Amendment, the CC is expected to work in a transparent manner. One could question where there is transparency when reasons for rejection are not divulged. Civil society members and intellectuals have also come to the conclusion that the CC is politicised," he said.
The President said the CC had failed to prepare criteria to be followed when taking decisions with regard to appointments.

Responding to the comments made by the Speaker as the head of CC, the Prime Minister and several MPs on his previous statement, Mr. Sirisena said he had not rejected any of the judicial officers who had already been appointed. He said there was an issue involving those who were not appointed.

The President also referred to the appointment of the Attorney General and the IGP. "The procedure adopted when appointing the IGP was not ethical," he said, while highlighting that civil society members were absent during the appointment of the police chief.

"I must state that I am not opposed to the Speaker, the Prime Minister or anyone else. But my purpose here is to clarify criticism against me," he said. "It seems the 19th amendment, which was the noble child delivered by me has been abused," the President further said.
Says procedure adopted when appointing the IGP was unethical