---
The President will not be required to attend Jaffna Magistrate's Court proceedings in terms of the summons issued to him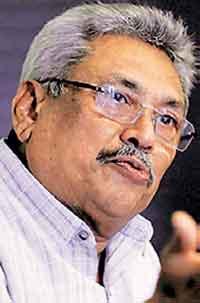 By T. Farook Thajudeen and Yoshitha Perera
The Court of Appeal yesterday quashed the summons issued by the Jaffna Magistrate's Court on President Gotabaya Rajapaksa to appear and testify on the case on disappearance of human rights activists Lalith Kumar Weeraraj and Kugan Muruganandan.
Upholding the objection raised by the Counsel for the President, the Bench comprising Court of Appeal President A.H.M.B. Nawaz and Justice Sobitha Rajakaruna stated that a Magistrate cannot mechanically issue summons on any person based on a request of a party to be present to administer evidence.

President Gotabaya Rajapaksa was represented by Romesh De Silva PC, Counsel Sugath Caldera, Harith De Mel and Ruwantha Cooray instructed by Sanath Wijewardane.

Accordingly, the President will not be required to attend Jaffna Magistrate's Court proceedings in terms of the summons issued to him last year over a Hebeas Corpus inquiry into the disappearance of two activists namely Lalith Kumar Weeraraj and Kugan Muruganandan, who had been reported missing since December, 2001, when Rajapaksa was the Secretary to the Defence Ministry.

The Court of Appeal also held that, in terms of the provisions of the Constitution, a person holding the office of the President had a Constitutional immunity from being made part of any civil or criminal proceedings and thus the Petitioner who is the incumbent President cannot be compelled to attend court through summons.