---
Leaders should not make any decision which will harm Buddhism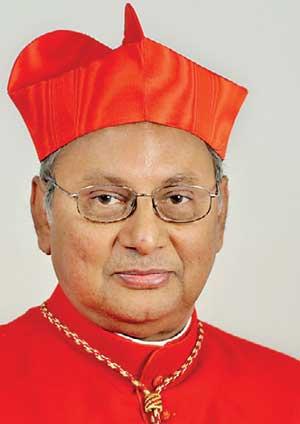 By Yohan Perera
Buddhism is a blessing which Sri Lanka had received and therefore no one can say it is not a Buddhist country, Archbishop of Colombo Malcolm Cardinal Ranjith said.
Cardinal Ranjith made this remark during a ceremony held in connection with the opening of new relic room at Payagala Malegoda Sri Pushparamaya Temple and the 75th birthday of its chief incumbent Venerable Malegoda Nanda Thera on Thursday.

"Buddhism is a great blessing which Sri Lanka has received. It is also a great gift. Chaithyas which are seen all over the country are ample proof that ancient kings who ruled this nation had a love for Buddhism. Therefore it can be clearly said that Sri Lanka is a Buddhist nation. No one can deny this fact. It is foolish to say that this country is not a Buddhist nation," Cardinal Ranjith said.

"The leaders of this country should not make any decision which will harm Buddhism. Sri Lanka should always safeguard this valuable gift," he added.
Buddhism is a great blessing which Sri Lanka has received. It is also a great gift. Chaithyas which are seen all over the country are ample proof that ancient kings who ruled this nation had a love for Buddhism