---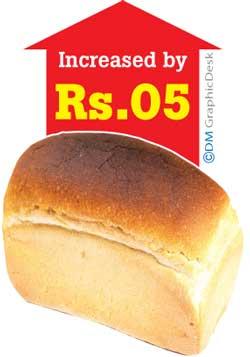 By Chaturanga Samarawickrama
Following the increase in the price of wheat flour, the All Ceylon Bakery Owner's Association (ACBOA) had decided to increase the price of a loaf of bread (450g) by Rs.5 from last night (20).
Speaking to the Daily Mirror ACBOA President N.K. Jayawardena said since Saturday (16) midnight, a kilo of wheat flour price was increased by Rs.8 and no responsible authority stood against the flour milling companies. We have waited for four days for the government's decision.

"70% of the bakery owners run their businesses on daily basis. The price of a loaf was between Rs.60 - 65. They are used to stock sufficient wheat flour for daily bakery products and recover the cost by selling them. Following the wheat flour price increase, we were unable to bear the cost," he said.

Finally, the ACBOA had decided to increase the bread price by Rs.5 from midnight today, he said.

We request the new government to interfere with the wheat flour price increase and to provide relief to the bakery owners and the consumers, Mr. Jayawardena added.
We request the new government to interfere with the wheat flour price increase and to provide relief to the bakery owners and the consumers