---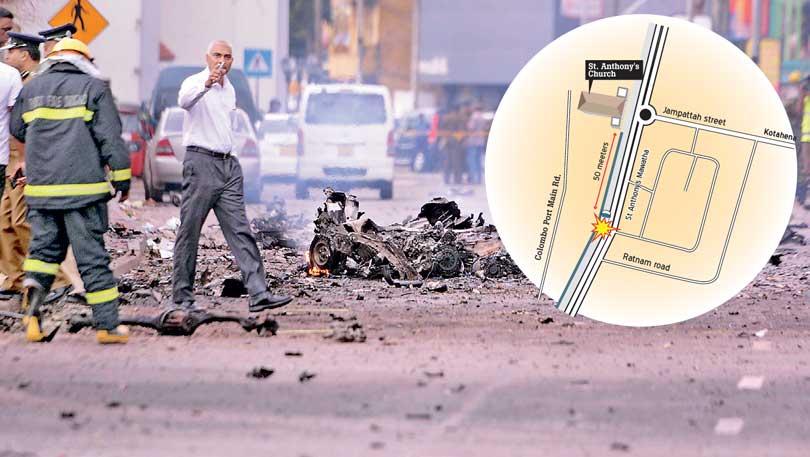 Controlled explosion in suspicious vehicle in the vicinity of Kochchikade church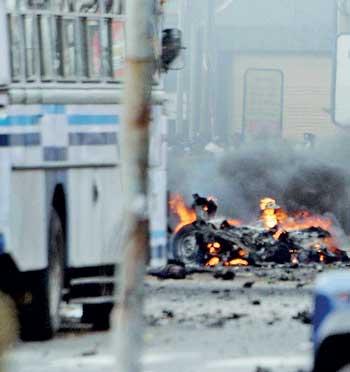 Text and Pic by Pradeep Pathirana
Another explosion took place yesterday inside a vehicle parked in the vicinity of the Kochchikade St. Anthony's Church, but no casualties were reported, the police said.
The explosion took place a day after a spate of bomb blasts at nine locations killing 290 persons and injuring nearly 500 others. Kochchikade St. Anthony's Church was one of the targets.
The police, backed by the Special Task Force (STF), cordoned off the area for search operation for possible explosive devises and terrorist suspects.

Police Spokesman Ruwan Gunasekara said the police that detected a suspicious vehicle carried out a controlled explosion on suspicious devises inside the vehicle.
"It even shattered the parapet wall and walls and windowpanes of nearby houses. As the police personnel who were deployed to defuse the explosive devises have been well trained, they accomplished the task uninjured. The vehicle had been used to transport the suicide bomber who blew himself inside the church during the Easter Sunday mass," he said.
Police took action to disperse the large crowd that thronged the area.

The police, along with the security forces, intensified countrywide operations to trace weapons and explosive devises kept for untoward acts and to arrest those responsible.
The police also carried out a similar search operation on a suspicious vehicle parked near a ground in Welisara. However, no explosive devise was found in the area.
Police, STF cordoned off the area for search ops for possible explosives
Police search suspicious vehicle parked in Welisara