---
More than 2000 employees in the FTZ had been stranded in their hostels after the crackdown of curfew
Every employee leaving the FTZ were subjected to a medical examination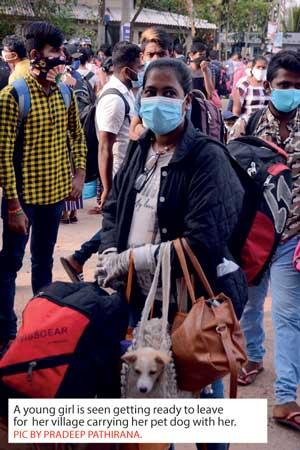 By W.D.M. Vithanage, M.T.M.Hanafi and Deepa Adikari
The Board of Investments and police yesterday made arrangements to provide transport facilities to Biyagama Free Trade Zone employees to leave for their homes.
More than 2000 employees in the FTZ had been stranded in their hostels after the crackdown of curfew. The registration of employee leaving the FTZ started last morning at the Biyagama police station under the supervision of Biyagama police OIC E.A.C.L.Amarasenka.

They were provided with free transport yesterday morning from the FTZ to their home towns all over the country. Health authorities said every employee leaving the FTZ would be subjected to a medical examination and anyone found sick would be referred to hospital for further examination and treatment.

Meanwhile, more than 6,000 employees of the Katunayake Investment Promotion Zone and those employed in other institutions in the area had gathered at the Investment zone expecting transport facilities to their home towns. However, the authorities had planned to provide transport facilities to only about 1500 employees. The Investment Zone authorities had deployed only 20 buses to transport its employees. Executive Director of the Investment Zone M.K.D. Lawrence said about 150 buses would be needed to transport all the employees.
More than 2,000 employees in the FTZ had been stranded in their hostels after the crackdown of curfew