---
Army Chief requests the general public to restrict movements
Avissawella, Kosgama, Ruwanwella isolated
Random rapid antigen tests at 17 exit points in WP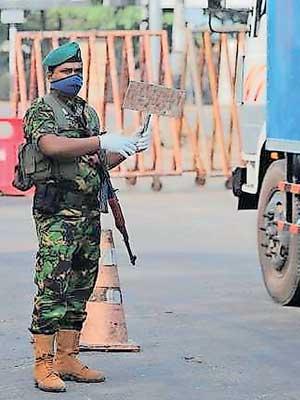 By Darshana Sanjeewa Balasuriya
There was no intention to impose a curfew covering the entire country during the festive season, the National Operation Centre for Prevention of Covid (NOCPC) said yesterday.
"However we request the public to restrict their movements," NOCPC chief Army Commander Lt. Gen. Shavendra Silva said.

He said that most Covid-19 cases were being reported in the Western Province.

The Commander requested especially those in Western Province to restrict travelling to other parts of the country as the most number of Covid-19 cases were reported in the Western Province.

He said that it was not necessary to impose travel restriction from time to time as intelligent people are aware of the danger.

"But a few are still not following the guidelines," he said.

"People should restrict their movements only to their areas where they currently at and not to travel out the Western Province. The public should adhere with health guidelines all the time," he said.
He said they had requested the apparel workers in Katunayake BOI Zone also not to leave for their lodgings and stay at their location as much as possible during the long holiday.

Meanwhile, the Commander said there were about 17 exit points to leave the Western Province and random Rapid Antigen Tests (RAT) would be conducted at all those exit points on those leaving the Western Province.
"Initially we have conducted Rapid Antigen Tests on four main exit points and we have identified 17 patients.
"There could have sub-covid clusters if those have travelled
out to other parts of the country. But from yesterday, we have increased the testing and tests would be conducted in all the exit points including the main highway exits," the Commander said.

Meanwhile, the Commander said Avissawella, Kosgama and Ruwanwella Police areas had been isolated yesterday until further notice as several cases were reported from those areas. Besides, Abayapura and Dinanagar areas in Trincomalee District also isolated yesterday until further notice.

As of Wednesday morning (24), a total of 580 persons were confirmed positive to COVID-19. One of them is a Sri Lankan expatriate and the rest 579 are locally-identified ones, including the majority 228 from Colombo, 108 from Gampaha district, 68 from Kalutara, District and other 175 are from different districts.
The Commander said Avissawella, Kosgama and Ruwanwella Police areas had been isolated yesterday until further notice as several cases were reported from those areas
Initially we have conducted Rapid Antigen Tests on four main exit points and we have identified 17 patients