---
Education Ministry has released 90 schools for the use of soldiers on the instructions of Education Minister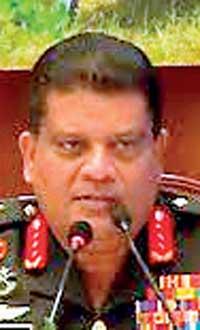 By Sandun A. Jayasekera
Acting Chief of Defence Staff and Army Commander Lt. Gen. Shavendra Silva who leads the fight against the viral infection said yesterday that under no circumstances, government schools will be turned in to quarantine centres.
The Education Ministry has released 90 schools for the use of soldiers on the instructions of Education Minister Dulles Alahapperuma.

"We made a request to Education Minister Dulles Alahapperuma to permit us to accommodate soldiers as Army camps have been over crowded as 100 or more camps have been converted into quarantine centres and he readily agreed. Otherwise, we have no intention whatsoever to use school buildings as quarantine centres. In our camps, soldiers sleep on the floor and in many instances and cannot maintain a safe distance between each other. That is why we requested to release a few school to accommodate them" Lt. Gen. Silva said.
Meanwhile, Director General Health Services, Dr. Anil Jasinghe said the Health Ministry conducted 1,400 Polymerase Chain Reaction (PCR) tests alone and added Sri Lanka had fast tracked the PCR tests and that was why the number of COVID-19 victims were detected had increased rapidly.

However, Dr. Jasinghe stressed that the dreaded viral infection was under control and kept hopes that there would be a reduction in detection in the days to come. He pointed out that four leading private hospitals, Asiri, Nawaloka, Lanka Hospitals and Durdans Hospital and laboratories at nine Universities were now conducting PCR tests in addition to Health Ministry labs. The PCR test is available at 54 government hospitals, 56 University laboratories and six private hospitals. The health authorities believe that approximately 45,000 Sri Lankans may have exposed to COVID-19 and needed health advice and protection. However, only 16% show symptoms of the viral infection but all others also have the virus in their system. That is the reason the PCR tests must be carried out on all suspicious cases and it has to be done sooner than later, he added.