---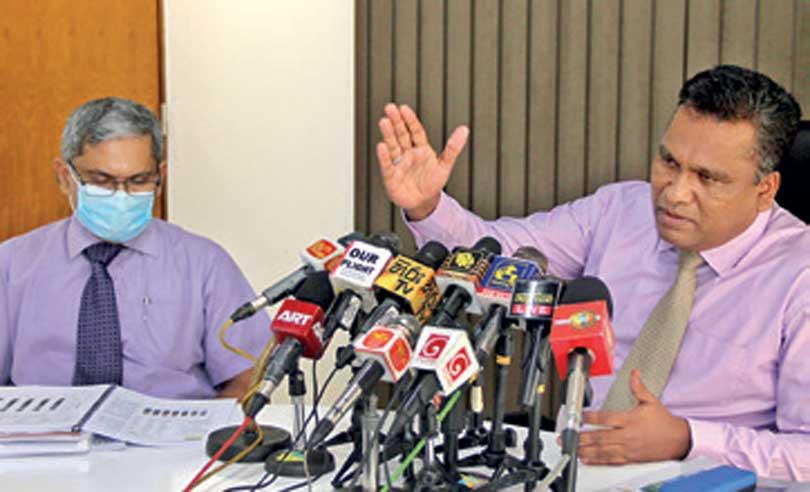 Pic by Pradeep Dilrukshana
By Sandun A Jayasekera
A Cabinet minister of the yahapalana government has been paid Rs.500 million by way of commissions by investors who funded a solar power generation project in Sri Lanka, Ceylon Electricity Board (CEB) Chairman Vijitha Herath claimed yesterday.
However, he refused to disclose the name of the project or that of the minister who was alleged to have been paid this money to approve this particular project though the journalists insisted that the name be revealed. Mr. Herath said he took full responsibility with regard to this allegation.

He told the media that the CEB would phase out thermal power generation by 2025 with the commissioning of several LNG, Coal, Wind, Solar power projects and several other renewable energy plants.

Responding to the Daily Mirror Mr. Herath said though the power generation plan envisaged to commission LNG power plants with the installed capacity of 1,300 MWs, the CEB would not be in a position to stop purchasing power from Independent Power Providers (IPP) though it leads to corruption among CEB officials and politicians.
Mr. Herath said among the new power plants expected to be commissioned before the end of 2020 are the Mannar wind power plants with 130 MWs and the two LNG power plants at Kelaniya and Kerawalapitiya.
He said discussions were ongoing on constructing the phase-4 of the Lakvijaya Coal Power Plant (LCPP) with the installed capacity of 300 MWs and the proposal to add another coal power plant at LCPP came from the Chinese company that built the three phases of the plant. Mr. Herath said it was not an unsolicited request from China but from the Sri Lankan government.

Responding to a question on the payment of Rs.17 million to a lawyer to prepare the draft of the agreement, Mr. Herath said the CEB has only paid him Rs.6 million and further payments would be made to the lawyers as and when the terms and conditions of the agreement were drafted.

With regard to why the CEB had not reduced tariff when the fuel prices had dropped in the global market, he said the Rs.200 billion Petroleum Stabilization Fund (PSF) fund was more beneficial to the economy and the people because the fund has made it easier for the government to keep the prices of consumer goods, transport fare and fuel prices stable and pay Rs.5,000 to six million families a month during the past two months.

Mr. Herath said the CEB would be turned into a profit-making venture with the commissioning of the coal, solar, wind and renewable power plants with an installed capacity of some 1,750 MWs by 2025 with the government being able to reduce the electricity tariff by mid 2021.

CEB General Manager Keerthi Karunaratne also attended the news briefing.
He refused to disclose the name of the project or that of the minister who was alleged to have been paid this money to approve this particular project though the journalists insisted that the name be revealed. Mr. Herath said he took full responsibility with regard to this allegation