---
We are calling for a select committee, as there was no proper discussion on the proposed CTA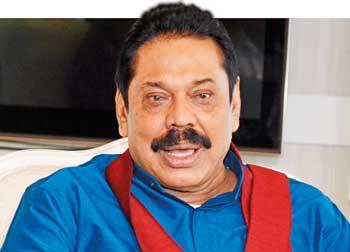 By Yohan Perera and Ajith Siriwardana
Leader of Opposition Mahinda Rajapaksa yesterday called for the appointment of a select committee to discuss on the proposed Counter Terrorism Act (CTA) so that a proper discussion could be held on the legislation.
"We are calling for a select committee, as there was no proper discussion on the proposed CTA. Our party opposes the proposed Bill but we are ready to discuss about it," he said.
Prime Minister Ranil Wickremesinghe who responded said the Bill had been discussed broadly at the oversight sectoral committee. "It was the members of your party who participated in the oversight committee than the members of my party," the Prime Minister said. However, he said the government is ready to discuss the matter further. Meanwhile, UPFA MP Chandima Weerakkody said the Attorney General, Director CID and Foreign Ministry Secretary had pointed out at the Sectoral Oversight Committee on Tuesday that new laws are not needed to counter the Thowheed Jamath terror groups. He therefore said it is better to amend the Prevention of Terrorism Act (PTA) rather than bringing in a new legislation. The Prime Minister who responded said the CTA has been approved by the Chief Justice and that it was drafted on the instructions of the AG's Department.
"We are calling for a select committee, as there was no proper discussion on the proposed CTA"