---
UNP govt. will enact Public Health Emergency Bill if elected to office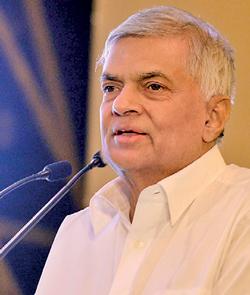 By Yohan Perera
Whist stating that another prolonged lockdown will kill Sri Lanka's economy, former Prime Minister Ranil Wickremesinghe proposed that political parties, health experts and other bodies discuss the Public Health Emergency Bill proposed by some opposition parties and enact as soon as new Parliament meet.
Mr. Wickremesinghe came up with is proposal while addressing an election rally in Biyagama on Tuesday.

"Some former MPs and I met during the last lock down period and drafted the Public Health Emergency Bill. I suggest that parties, health experts and other bodies initiate a dialogue on it, so their amendments could be entertained. Enacting this Bill would be the first thing a UNP government will do if elected to office," Mr. Wickremesinghe said.

"Several countries such as Italy enacted new laws under which restrictions are imposed on movements and other steps without lock down. However Sri Lanka has not thought of it yet. It is high time Sri Lanka gave a thought to it, as another lock down will kill the country's economy," he added.

The drafted Bill provides power to Parliament to pass a resolution by a two thirds majority declaring a state of public health emergency upon written advise of Director General Health, provides provision for Parliament, Courts, Cabinet and Public Health Emergency Council to sit, convene and hold sessions through the use of contemporaneous or near contemporaneous audio visual linkage during the period of public health linkage and provides provisions for a person to enjoy services of any institution via technology from a state institution.