---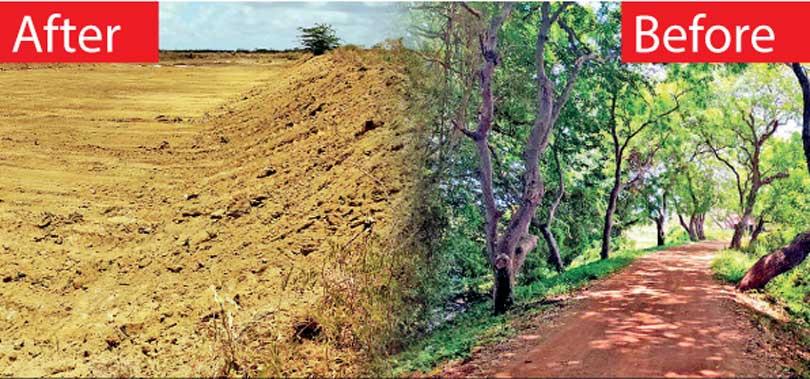 By Priyankara Jayasinghe and Diana Udayangani
A portion of the Anawilundawa Sanctuary in Puttalam declared as a wetland under the Ramsar Convention, has been bulldozed on Tuesday (25) night by a group of unidentified persons.
The area known as Muthupanthiya a portion of land in Kasanwatte belonging to the Anawilundawa Sanctuary has been flattened by some persons and the villagers suspect that this has been done in order to establish prawn farms.
When questioned by the media, the Assistant Director of Wildlife of Puttalam, Eranda Gamage said, that the wanton destruction of this land has been reported to the Chilaw District Courts. He also said that investigations are underway to take into custody the suspects involved in this destruction along with the machinery used.
He opined that Anawilundawa area had been declared as a Sanctuary under the Wild Life regulations as an environmentally protected area and in addition according to the Ramsar Convention declared as a wetland of international importance. He said further that this destruction has taken place by a group of persons who had entered this Sanctuary after 04.30 pm on 25th bringing in a Bulldozer. It has been observed that the suspects had completely removed the herbal pastures of this wetland.
There is evidence of earlier encroachments of similar types where destruction had been caused.
Environmentalist Ajith Gihan representing the voice of the Wayamba Environmental Organisation expressing his views said that they suspect that the Bulldozers had been driven into this land through a byroad of the Udappuwa main road branching out towards Muthupanthiya. There had been earlier occasions too when intruders had forcibly acquired lands belonging to the Anawilundawa Sanctuary to set up prawn farms during 2000 and after. These were reported and with the commencement of prosecutions, the encroachers had left the site.

Ajith Gihan said that he hopes President Gotabaya Rajapaksa would take necessary action to safeguard this Sanctuary area. He expressed that without political patronage no one would dare enter a Sanctuary and damage the environment; therefore he suspects that there might be a political hand in this sordid affair. Already environmentalists and wild life officers are now jointly involved in replanting Mangroves in the areas destroyed.
Anawilundawa Sanctuary covers an area of 1,397 hectares and was declared as a wetland under the Ramsar Convention on August 03, 2001. This Sanctuary is frequented by both local and foreign tourists for its sheer beauty of a cluster of lakes and home for several species of birds including the migratory birds.