---
Special police team from Negombo arrests him when he surrenders in Kurunegala Town
he had surrendered along with a well-known businessman in Kurunegala
police suspect he must have found refuge in the businessman's residence in the past few days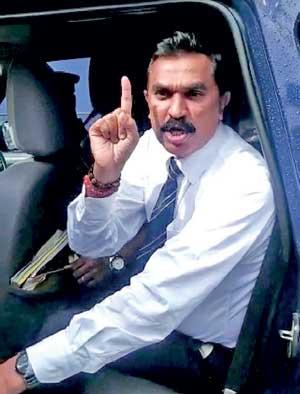 By Kurulu Koojana Kariyakarawana and Pushpakumara Jayaratne
Absconding Negombo Prison Superintendent Anuruddha Sampayo, who had been evading arrest for over a week surrendered to police in Kurunegala yesterday afternoon, the police said.
The Prison Superintendent who was in the centre of controversy as the police failed to find his whereabouts despite repeated remarks by the Attorney General's Department to arrest him had showed his willingness to surrender by informing a senior police official yesterday morning.

Superintendent Sampayo had reportedly telephoned a senior police official in Negombo and had said that he's ready to surrender in Kurunegala.

As a result, a special police team from Negombo had been dispatched to Kurunegala, where the Superintendent had been placed under the custody when he had come and surrendered to the police near St. Anne's College, Kurunegala around 3.45 pm yesterday.

According to eyewitnesses, the Superintendent had come to surrender to the police along with a well-known businessman in Kurunegala and a few of his associates. The police suspect the Superintendent must have found refuge in the businessman's residence in the past few days.

The Negombo Magistrate on the reference of the AG's Department issued arrest warrants on Sampayo, when he was found to have arranged a couple of top drug suspects kept at the Negombo Prison with unwarranted 'luxury' like facilities in their prison cells.

Despite the Magisterial order the police failed to find and arrest the Prison Superintendent for over a week, letting Deputy Solicitor General Dileepa Peiris at a specially arranged press briefing to heavily criticise the police for its inaction.

Several other Prison officials who found linked to the same offence had surrendered to the police previously.
Anuruddha Sampayo has been identified as a resident of Uyandana area in Kurunegala.
Several other Prison officials who found linked to the same offence had surrendered to the police previously
Despite the Magisterial order the police failed to find and arrest the Prison Superintendent for over a week