---
The Party won Independence for Sri Lanka
Brought in an agricultural revolution
Ensured the rule of law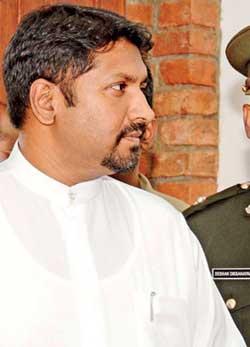 By Yohan Perera
As United National Party stepped into its 75th year yesterday, the party's Deputy General Secretary Ruwan Wijewardene urged all party members to come together for the struggle to safeguard the party and its identity for another one hundred years.
Mr. Wijewardene said this in a statement which he issued on the occasion of UNP's 74th anniversary which was celebrated yesterday at party headquarters Sirikotha.

"We have to stand up amidst destruction and defeat. It is obvious that one could meet a precipice once he or she reaches the top of a mountain. We fall into a precipice if we are too weak to stay on top of the mountain. We have suffered such a fate today. It is essential that the party should understand its errors and come up once again. It is also essential to unite all sections within the party and walk towards victory. This should be done to safeguard the county's democracy, for the sake of the working class, for the people whose minds are distorted by gimmicks. However, people will embrace reality soon. We should be ready for the final battle as that happens. Time has come for us to get together," Mr. Wijewardene said in his statement.

"The pro-people programmes which UNP has undertaken in the past should not be confined into a document. Its journey which continues amidst conspiracies and obstacles will not end. We have been forced to light the torches of expectation in a situation when there is an administration which suppresses the rights of the people which we won for them," he added.

Mr. Wijewardene recalled that the UNP was able to introduce programmes such as Enterprise Sri Lanka, Suwaseriya, Gam Peraliya, Langama Pasala Hondama Pasala and was able to reduce the prices of 50 medicines, "These were achieved amidst many challenges. The party was able to achieve these amidst the challenges such as snatching of the government and forming an illegal 52-day regime in 2018," he said in this regard.
"UNP was also able to do away with the 18th Amendment and to ensure rule of law through the 19th Amendment, to bring in Right to Information Bill and the Audit Bill. We were able to de-politicise sectors such as finance, electoral system, police, and public service and were able to bring in laws to limit the cabinet to 30 members. We also introduced institutions such as Office of Missing Persons," he also said.

"UNP which was started by late Prime Minister D. S. Senanayake bringing together around 200 representatives of various organisations such as National Congress, Sinhala Maha Sabha and the Muslim League. The party was launched at Palm Grove. UNP was able to win independence for the country and then launched various programmes such as the Agriculture revolution together with the Mahaweli Development project, free education system, initiated the rubber-rice pact with China under Prime Minister Dudley Senanayake and developed the tourism sector. The party was able to come up with another revolution in 1977 under late President J. R. Jayewardene. Late President R. Premadasa took over from Mr. Jayewardene and the late D.B. Wijetunga took over the leadership. Present Leader Ranil Wickremesinghe took over the party leadership in 1994," he recalled.
The pro-people programmes which UNP has undertaken in the past should not be confined into a document