---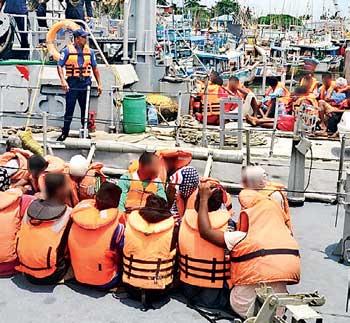 By Darshana Sanjeewa
At least 30 Sri Lankan illegal immigrants were arrested by the Navy about 80 nautical miles off the southern coast early yesterday morning.
Navy spokesman Isuru Suriyabandara said two Navy Dvora vessels had intercepted a trawler with illegal immigrants.

"The suspects were to be brought to the Galle Harbour. We suspect they were heading to Réunion Island," Lt. Cdr. Suriyabandara said.

Reunion Island is an islet close to Madagascar in the Indian Ocean and is being administered by the French.

More than 50 Sri Lankans who had illegally migrated to Reunion Island were deported by French authorities last month.