---
Altogether, five Sri Lankans have died from COVID-19, with two deaths reported overseas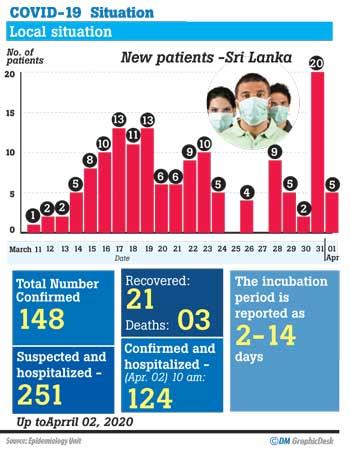 By Sandun A Jayasekera
With another casualty from Maradana on Wednesday night at the National Institute of Infectious Diseases (NIID), the number of COVID 19 deaths in the country rose to 3 yesterday while the total number of confirmed cases of viral infections stood at 148 yesterday including the two admitted to the NIID.
Altogether, five Sri Lankans have died from COVID-19, with two deaths reported overseas - one in Switzerland and the other in London.

About 20 families in Pannila in the Beruwala police division have been isolated for the next 14 days by the Beruwala Police.

Villages Atulugama in the Kalutara District, Kadumayanakulum in Puttalam and Akurana in the Kandy district have also been declared completely isolated areas. No one will be allowed to enter or leave these areas as well.
Expressing his dismay and disappointment on the behaviour of the patient who died on Wednesday night, Sri Jayewardenepura Hospital Director Dr. Ratnasiri Hewagae said over 2,000 people have to be brought under quarantine at a famous housing scheme of a low income families in Maradana in addition to infection of his son in law, wife, daughter and a child of the family.

It was his son in law who has brought the virus to the family after a pilgrimage to Nepal. But both of them had jumped quarantine and gone to private nursing homes for treatment after infection. This is extremely unpardonable and unacceptable," Dr. Hewage said.

Island wide, there are 33 COVID-19 patients receiving treatment at various hospitals in the district of Colombo, 25 in Puttalam, 24 in Kalutara, 11 in Gampaha, 4 each in Jaffna and Kandy, 3 in Ratnapura, 2 in Kurunegala and one each in Galle, Kegalle, Batticaloa, Badulla and Matara.

Another 195 were released after the completion of quarantine yesterday by the Sri Lanka Army bringing the total number of people quarantined to 2,118.

Meanwhile, the Director General of the World Health Organization (WHO) Tedro Adhanom Ghebaeyesus sounding alarm bells to the effect that the number of death globally rising to 50,000 with one million victims in the next few days, the US has become the most vulnerable country in terms of the largest number of infections and deaths in the last 24 hours.
The rapidly spiraling trend of COVID-19 continued in 203 countries across the world in a destructive rate with 48,135 deaths (an increase of 5,783 casualties in 24 hours) by noon yesterday from among 946,875 confirmed cases of viral infections (an increase of 86,179 victims worldwide in a single day) from 860,696 on Wednesday. .
In the US, 5,133 patients had died from among patients 216,362, in Italy, 13,155 deaths from 110,574, in Spain, 10003, deaths from 110,238 victims, in Germany 932 deaths from 78,199 patients, in France, 4,025 deaths from 56,325 patients, in Iran, 3,036 deaths from 47,593, in the UK, 2,352 deaths from 29,474.
Meanwhile, in mainland China from where the viral epidemic spread to other countries had died only 6 patients in the 24 hours that ended at 12,00 noon yesterday increasing the number of deaths to 3,318 from 3,316 on Wednesday. The number of patients had increased only by 35 to 8,589 from 81,554 on the previous day.