---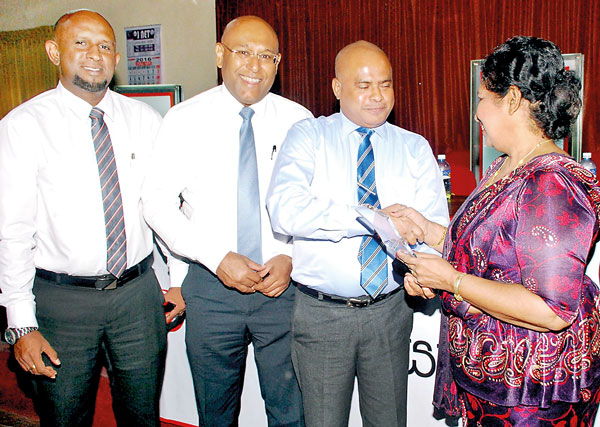 Pan Asia Bank 25,000th Sammana customer G.K.S. Perera receiving the felicitation plaque from Director General of Pensions Sunil Hettiarachchi, Pan Asia Bank Director/CEO Dimantha Seneviratne and Pan Asia Bank Deputy General Manager Retail Banking and SME Naleen Edirisinghe



Achieving yet another milestone in the banking business, Pan Asia Bank recently welcomed the 25,000th 'Sammana' customer - retired government pensioner G.K.S. Perera - at a special ceremony organised by the bank.


Perera was felicitated by Director General of Pensions Sunil Hettiarachchi and Pan Asia Bank Director/CEO Dimantha Seneviratne at a special event held at the Homagama Divisional Secretariat.

Pan Asia Bank introduced Sammana, a special loan scheme offered exclusively designed for government pensioners, two years ago becoming the first bank to offer such a loan scheme in Sri Lanka. Since then the product has grown in leaps and bounds offering financial empowerment to a larger retired populace.
Pan Asia Bank's Sammana loan scheme offers loan facilities up to Rs.1 million with repayment periods of up to seven years for government pensioners as well as for retired Central Bank employees. This loan scheme does not require collaterals as security and the loan amount per applicant is decided based on the monthly pension. For example, a pensioner who earns Rs.10,000 per month is eligible for a loan of Rs.315,000.

More than 150 retired government pensioners participated in this special occasion and were also offered a free eye check-up by Vision Care Opticians, who joined hands with Pan Asia Bank to make it a meaningful and a successful event. The participants were also given 10 percent discount by Vision Care for the spectacles purchased on this day.

Speaking at the ceremony, Perera stated that at a time when she was being overlooked by many financial institutions for credit facilities, Pan Asia Bank came forward to identify her requirements and fulfilled them with the Sammana product offering. She also appreciated the warm customer service she received especially as a senior citizen who has tirelessly served society as a government servant.

Homagama DS Office Divisional Secretary and Pan Asia Bank Homagama Manager Sanjeewani Senevirathna also participated in this event.