---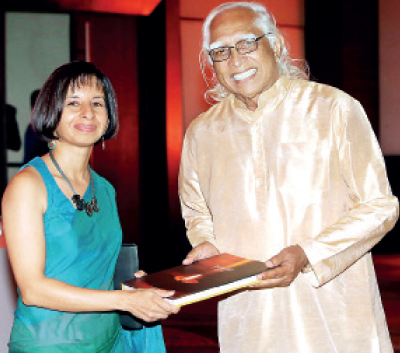 Janashakthi Insurance recently launched the book 'Taming Risk – The Janashakthi Story' by author Michelle Gunawardana at the Cinnamon Grand hotel.
The book was commissioned by Janashakthi in 2014 to commemorate their 20-year history in insurance. The title is a reference to the insurance industry as a means of managing uncertainty and risk.

Speaking at the launch ceremony, C. T. A. Schaffter said, "When we started over two decades ago, we were already late. There were 5 other players in the market which made for fierce competition but through innovation and strategic thinking we persevered and grew. Be it the generation of startup capital or going beyond our actual liability during the tsunami of 2004 or the regulatory challenges of 2009, we have had our mettle tested over the years and at each juncture we have come through it stronger. This book is a testament to all the mountains we've scaled and a reminder of the lessons we've learned through this journey."

Through a series of comprehensive interviews spanning a broad arc of key stakeholders from the Schaffter family, the company's first employees and board directors to regulators and clients and sifting through archival records, the author is able weave a vivid story, rich in historic fact and intimate details tracing the history of the company all the way back to its conception.Woven into this compelling narrative are snapshots of the industry and country that Janashakthi was born into and the personal contributions made by those that guided it along the way. In essence the book is a tribute to the spirit, entrepreneurship, innovation and extraordinary leadership that shaped Janashakthi over the decades.

This feat of captivating storytelling was only possible through the skilled hands of author Michelle Gunawardana. Her history in banking and compelling and informal narrative style, as witnessed in her previous works, made her the perfect author to be entrusted with Janashakthi's story. The picture she paints is one of a company that, overcoming several hurdles, has reached a position of strength in the industry and is again on the cusp of change at an important time in the country's history.

"The history of insurance, going back 4000 years, turned out to be a fascinating subject. And the concept of sharing risk, so that losses weigh lightly on many rather than heavily on a few (as Sir Francis Bacon once put it) is itself a wonderful thing, when you think about it. Chandra Schaffter understood the essence of insurance and when he founded Janashakthi, at the age of 65, when most others are thinking about retirement, he created an entity that embraced that spirit. The company's journey has been a dramatic one, and it has triumphed over great difficulties to achieve great results, in the relatively short space of 20 years. The Janashakthi story is a story of extraordinary vision, entrepreneurship, leadership, courage and belief, and it has been my privilege to capture it," said author, Michelle Gunawardana.
---
---
Add comment

Comments will be edited (grammar, spelling and slang) and authorized at the discretion of Daily Mirror online. The website also has the right not to publish selected comments.

---