---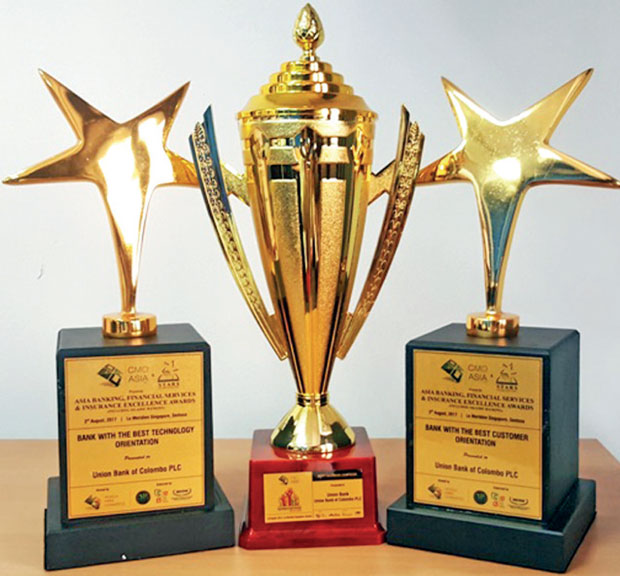 Union Bank was conferred three prestigious awards for excellence at the CMO Asia Awards 2017, concluded in Singapore recently.

These accolades were presented at two awards ceremonies held on 1st and 2nd August 2017. At the CMO Social Media and Digital Marketing Awards 2017 the Bank won the title for Best Facebook Campaign within the Banking sector in Sri Lanka while at the Asia Banking, Financial Services and Insurance Awards Union Bank managed to clinch two titles for Sri Lanka namely; Bank with the Best Customer Orientation and Bank with the Best Technology Orientation.

Commenting on the awards Assistant Vice President – Marketing at Union Bank, Thishani Dissanayake said, "We are honoured and delighted to receive thisinternational recognition for the success in building customer confidence in our brand through customised financial services enhanced with the latest in technology that enables greater convenience. Further, it's of great significance to be recognised especially for the efforts in building the Bank's brand identity on social media as a vital part of Union Bank's focus to establish its positioning as a fully-fledged commercial bank in a bid to propel our new and energized strategic direction."

"Following a landmark investment by the global investment giant TPG in 2014, today Union Bank has made great strides in its new business model and the fresh brand outlook; having embarked on an ambitious journey towards becoming a leading, household financial name in Sri Lanka. In line with this dynamic strategic direction, Union Bank developed a products and services approach that places the consumer at the heart of its business. Over the past two years, the Bank has introduced numerous customer-oriented financial solutions in a bid to meet the financial requirements of the diverse Corporate, SME and Retail clientele we serve. Such customised financial solutions are delivered through our multi-channel strategy which strives to create optimum value to our customers through enhanced technology and greater convenience. These awards are therefore, an endorsement of Union Bank's continued commitment to keeping the customer at the heart of its business while making optimum use of the latest technology to reach its customer bases effectively.

Further, the bank's strategic marketing initiatives have paved the way for Union Bank to become one of Sri Lanka's well established brands within a brief period. Our focused communications strategy is extended to social media platforms in a bid to encourage its clients to engage with the brand more meaningfully and frequently. The award for Best Social Media Campaign is an affirmation of Union Bank's growing brand presence within the digital marketing arena," Dissanayake further observed.