---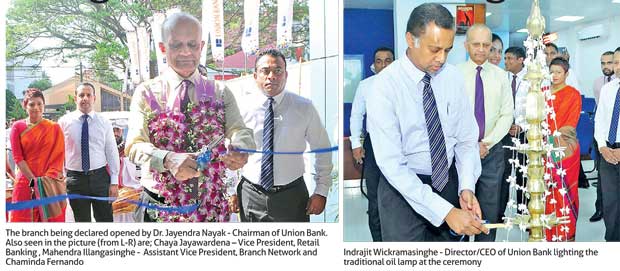 Union Bank reopened its Negombo branch with a new outlook and an enhanced ambience recently in line with the bank's strategic focus to deliver a redefined banking experience to its clients.
The branch located at Main Street, Negombo is now better equipped to serve the dynamic financial needs of the buzzing trade and tourist hub; with an enhanced product portfolio that includes Elite Banking, Forex services, Pawning and Remittance services.
With the reopening of its branch, Union Bank renewed its commitment of over 20 years towards the economic and financial development of this region, while strengthening its profound banking relationshipswith the individuals and businessmen in Negombo.
The Union Bank in Negombo will continue to support the aspiring entrepreneurs to benefit from the bank's customisable SME financing facilities and advisory services. With its expertise and knowledge in SME financing, Union Bank will continue to offer a range of SME banking solutions including short term working capital loans, supplier and distributor finance and long term funding which will be beneficial to the vital industries in the area such as fisheries, tourism, construction, healthcare, vehicle imports and retail. Supplemented by enhanced technology and the expertise of its staff members, the re-opened Negombo branch of Union Bank will continue to enrich the lives of its residents by providing a host of retail banking services; such as current and savings accounts, children's savings accounts, NRFC/RFC accounts, fixed deposits, housing loans, education loans, leasing facilities, credit and debit cards, bancassurance as well as Western Union Money transfer services coupled with the convenience of Internet Banking and a Contact Centre that operates 24-hours.
Union Bank's Negombo branch will be open for business on weekdays from 9am to 4pm and can be directly contacted by dialing 031 2238299.