---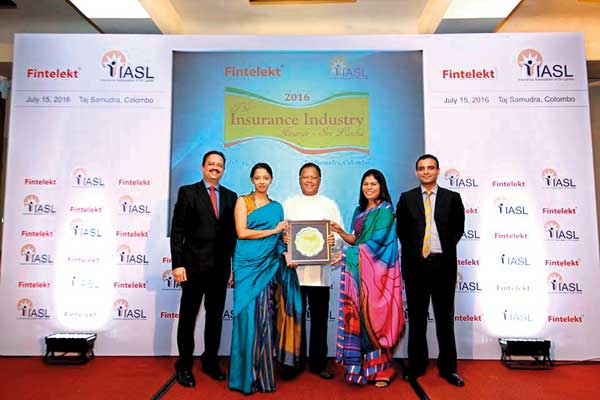 Iroshini Tittagalla (General Manager - Life) and Thusharie Dissanayake (Senior Manager - Life - Claims) receiving the award for Excellence in Claims Service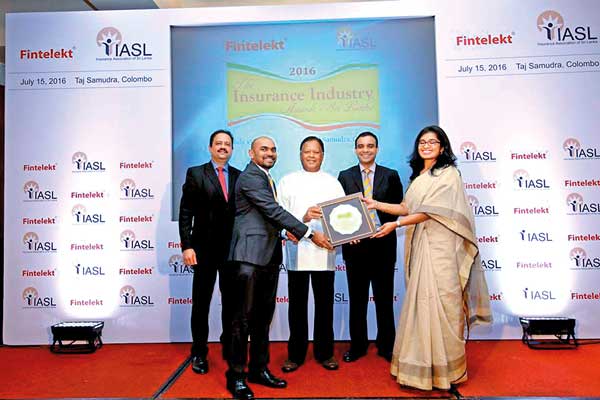 Sherin Cader (General Manager - Finance and Planning)
and Kasun Sameera (Senior Manager - Marketing) receiving the award for Technology Innovation
The first edition of The Insurance Industry Awards of Sri Lanka was organized by Fintelekt in association with the Insurance Association of Sri Lanka (IASL) on July 15, 2016 at Taj Samudra, Colombo.The awards ceremony washeld to recognize and honor the achievements of insurance companies in Sri Lanka that have
met measurable and tangible business objectives.

The keynote address at the awards ceremony was delivered by Minister for Special Projects Dr. Sarath Amunugama. During his speech the Honorable Minister emphasized the importance and relevance of the insurance industry to Sri Lanka's economic growth and encouraged insurers to reach out and expand the scope of insurance to certain domains that are not being considered so far.
Dirk Pereira, President, IASL, said "the Insurance Industry Awards of Sri Lanka will serve a key objective in developing and enhancing professionalism in the industry by bringing a degree of healthy and transparent competition".
Shirish Pathak, CEO of Fintelekt also shared his thoughts about being able to present the first edition of Insurance Industry Awards of Sri Lanka which had been conceptualized to become an aspirational benchmark for insurance companies in the country.

The award ceremony was attended by leading Sri Lankan insurance companies. A total of twelve awards were given out,in appreciation of the outstanding performance showcased in a variety of categories including industry growth, innovation and product development.

Union Assurance proudly acclaimed the awards for Excellence in Claims Service and Technology Innovation. UA had the highest claims settlement ratio among the participating companies for the year 2015 which won them the Excellence in Claims Service award. The Technology Innovation award was won by UA for introducing the Digital Advisor Toolkit in 2015. It is a comprehensive digital solution designed for the sales force and staff to maintain consistency in underwriting

Rukman Weeraratne, General Manager - Marketing and Distribution said, "Our Goal at Union Assurance is to excel in all our tasks and functions to give the best to our customers, our staff and all stakeholders. We as a company are continuously working to bethe 'benchmark' life insurance company in Sri Lanka as well as in the region. We are proud of our achievements at the Insurance Industry Awards and hope to continue winning in the coming years as well."