---
FLEXiT fixed deposit launched by UB Finance in November 2016 is another innovative investment product introduced by the company in keeping with its premise to offer its clientele a better deal with maximum returns, flexibility, security and unparallel service.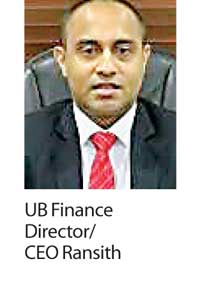 According to UB Finance Director/Chief Executive Officer Ransith Karunaratne, "The FLEXiT fixed deposit breaks the traditional fixed deposit mould and is a hybrid product, amalgamating the features of a fixed deposit and a savings account. The objective of the FLEXiT deposit is to offer the customers a flexible midterm investment product, which guarantees a higher return on every investment made, irrespective of the age of the depositor, amount invested or the tenure of the deposit."
Karunaratne further stated, "A FLEXiT account can be opened at any one of the 16 UB Finance branches located islandwide. Customers can enjoy a maximum return of 14.5 percent per annum on their investment either on a monthly or maturity basis. The FLEXiT fixed deposit is available for a period of 15 months and affords customers the opportunity to make withdrawals as they wish at stipulated intervals after the first three months. Most importantly no penalty will be charged on early withdrawals for which a predetermined interest rate will be paid. All this is backed by the superior service and security offered by UB Finance."
UB Finance Co. Ltd has a reputation for strength and stability within the financial services arena offering its customers 'the versatility of a finance company backed by the strength of a bank', which is supported through its competitive edge of being the first finance company in Sri Lanka to be backed by a private sector commercial bank. As a Union Bank company, UB Finance leverages on the expertise of Union Bank for guidance in operations. The company has also built its reputation on strong connections with local communities and stakeholders and through a well distributed network with a presence across Sri Lanka.