---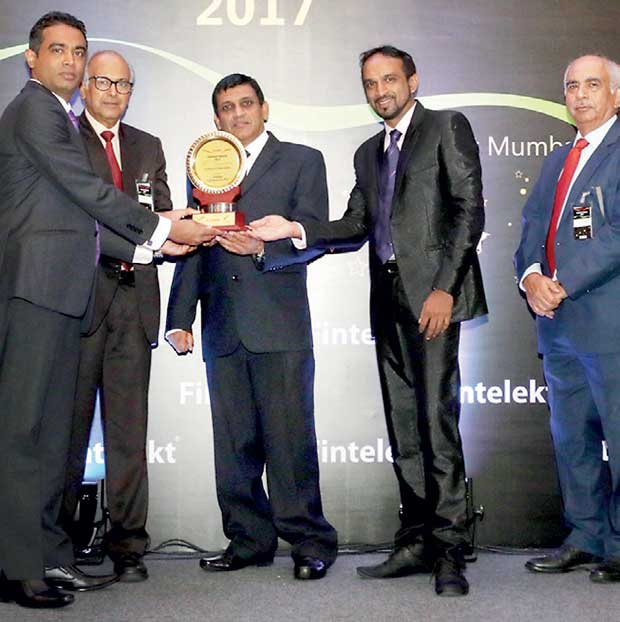 From left: Softlogic Life Insurance PLC Life Operations DGM Lasitha Wimalarathne, Jury Committee Member Kaushal K. Mishra, Softlogic Life Insurance PLC Chief Operating Officer Chula Hettiarachchi, Softlogic Life Insurance PLC Senior Manager Claims Suranga Ranasinghe and Jury Committee Member S.B. Mathur - holding the award.
Softlogic Life Insurance, Sri Lanka's fastest growing and most innovative Life Insurer, has been conferred with the top two awards, 'Excellence in Agency Distribution' and 'Excellence in Claims' at the Sri Lanka Insurance Industry Awards 2017.

Softlogic Life shared the stage with all the top Indian Insurance companies who were awarded at the gala Fintelekt event that combined India and Sri Lanka awards held on 21 July in Mumbai, India. Life Insurance Corporation of India (LIC) and Apollo Munich Health Insurance carried away the Indian equivalent of the awards that were won by Softlogic Life. The high profile awards ceremony recognized and honoured the achievements of insurance companies in India and Sri Lanka that have met measurable and tangible business objectives.

'Excellence in Agency Distribution' was awarded for Softlogic Life for the excellence the company has achieved with its tremendous growth through its sales force which is widely regarded as the best in the country and its widespread agency distribution, by demonstrating the highest productivity as well as efficiency in business acquired. Softlogic Life was also honored with the Excellence in Claims Service for its demonstration of overall leadership and commitment to effective and speedy claims settlement. Well over 80 percent of claims received by Softlogic Life are paid in one day.

Acknowledging the awards, Softlogic Life Managing Director, Iftikar Ahamed stated, "It is a great honour for Softlogic Life to be felicitated with the two most important awards. What sets Softlogic Life apart is our will to be the best at what we do. Our range of innovative life insurance solutions are customized to meet each individual's lifestyle requirements, driven by the best Agency Team in the country. We believe that insurance is about paying claims and not resorting to fine print to avoid claims. These awards are therefore an acknowledgement of our efforts towards excellence in Life Insurance."

From the year 2011 to 2016, Softlogic Life has grown way above the industry average and has more than doubled the industry growth rate; due to the exceptional performance of the company's outstanding sales force. Their relationship management practices have enabled excellent customer service and delivered very high persistency levels that are far ahead of the industry. The productivity level of advisors has also improved significantly where 1,565 insurance advisors generated Rs.1.697 billion of first year premiums with the average productivity exceeded one million Rupees per advisor which is the highest in the industry.

Expressing his views on the company's focus to provide best in class claim settlement services, Softlogic Life Chief Operating Officer, Chula Hettiarachchi said, "The company has significantly improved its health claim settlements where over 80 percent to 90 percent health claims got settled within a day and overall 98 percent of the total claims settled within three working days which is at speed previously unheard of in the life insurance industry and it is achieved through the technological innovations and focused customer service in the operation. These significant improvements in claim servicing have created a benchmark for other industry players to follow Softlogic Life."

"We believe every claim is an opportunity to serve a customer and paying a claim is the guaranteed way to build customer confidence towards life insurance, which will ultimately have a positive impact to improve penetration level of life insurance in the country" Hettiarachchi
further said.