---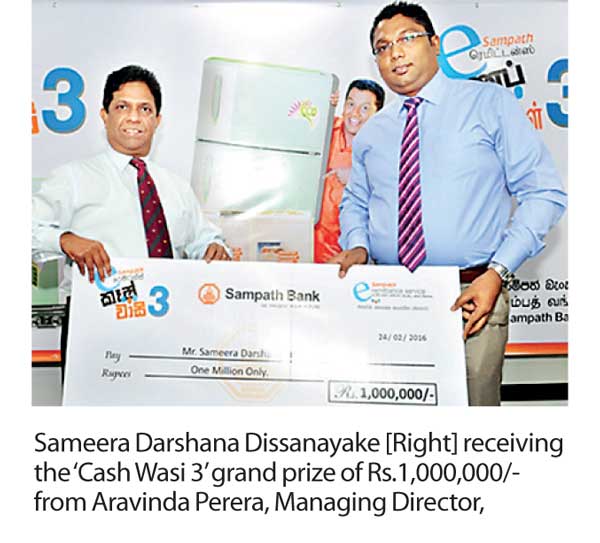 Reiterating its commitment towards being an integral form of support behind the welfare of the expatriate workforce, Sampath e-Remittance recently concluded its 'Cash Wasi 3' promotional program with a grand prize-giving ceremony on the 24th of February, held at the auditorium of the Bank's Head Office in Colombo 02.

Sampath Bank, steadfast in their efforts to transcend all boundaries with regard to delivering unparalleled ease of operation and benefits, launched its 'Cash Wasi 3' promotional program on the 1st of September, 2015. During the promotional period, Sampath e-Remittance customers were able to avail themselves of cash and other prizes amounting to millions of rupees.

The first prize of Rs. 1 million of the 'Cash Wasi 3'promotion was awarded to Sameera Darshana Dissanayake, a resident of Bellanwilla. Whilst working as a businessman, Dissanayake has trusted the services of Sampath e-Remittance for almost a decade and utilizes the service to receive money sent by his friend in Italy. Speaking to us about the promotion, Dissanayake recognized the experience of winning the first prize of 'Cash Wasi 3' amounting to Rs. 1 million as a life changing one.

"I have been consistently working with Sampath Bank for nearly 10 years now. For many years, we have only trusted Sampath Bank's e-Remittance service to send and receive money easily, with utmost safety. In addition to the safety, the degree of concern and care shown to its customers is another reason why we have stayed on with Sampath Bank. Awarding a prize of this magnitude is a shining example of the warmth they extend to us. Truly, winning that cash prize was a life changing experience for us. So, I would like to thank Sampath Bank from the bottom of my heart for that."
In addition, the lucky winners of the three Rs. 1 lakh cash prizes from Sampath Bank were Hemantha Somasiri, Sarojathevi Mylvanagam and B.N. Kanagarathne. Additionally, Sampath Bank also awarded 5 LED TVs, 10 Home Theater Systems, 3 Washing Machines, 10 Hi-Fi Stereo Systems and 2 Fridges as consolation prizes to many others as part of the 'Cash Wasi 3' promotion.

Commenting on this promotional activity, Sampath Bank's Senior Deputy General Manager – Consumer Banking, Tharaka Ranwala, said that, "As a local bank dedicated to the progress of the nation, Sampath Bank extends its gratitude to the Sri Lankan workforce employed overseas for their enormous contributions towards strengthening the local economy. Thus, phase 3 of the 'Cash Wasi' program was launched as a tribute to this silent service carried out by them. The specialty of the 'Cash Wasi' program is that it's designed to go beyond traditional boundaries and afford our customers maximum advantages and benefits. It is our belief that the first prize of Rs. 1 million and a host of other prizes have created a lasting and memorable change in the lives of our customers. In this regard, Sampath Bank will ensure that it will stay committed towardsdawning a brighter tomorrow for all its customers at present and in the future."

Currently, the Sampath e-Remittance operates internationally in countries including The United Arab Emirates, Spain, Saudi Arabia, New Zealand, Kuwait, Australia, Italy and Singapore through more than 90 foreign money transfer agents.