---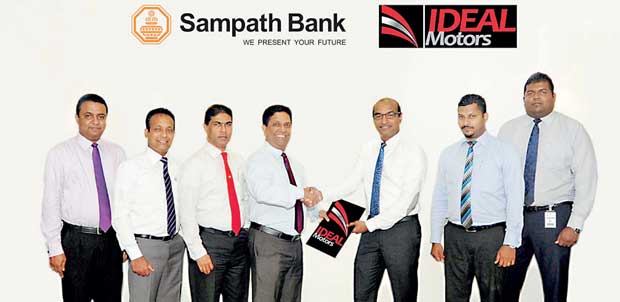 Middle: Sampath Bank Managing Director Aravinda Perera exchanging the Memorandum of Understanding with Ideal Motors (Pvt) Limited Chief Executive Officer Chaminda Perera in the presence of (from left) Brand Manager Chinthake Yapa, Senior Manager Lending Products Keshan Dabare, Sampath Bank Senior Deputy General Manager Consumer Banking Tharaka Ranwala, National Sales Manager Rakitha Wimalasekara and Ideal Motors Assistant Manager Marketing Kushan Goonawardena
Positioned at the forefront of the banking industry for identifying and understanding the dynamic needs of customers and extending invaluable and reliable leasing services, Sampath Bank Leasing recently announced its joint partnership with Ideal Motors (Pvt.) Limited to bring to its Sampath Leasing customers a valuable promotion from April 1 to May 31.
Offering a special array of deals with exceptional convenience and value-added benefits, Sampath Leasing promotion is applicable to brand-new Mahindra commercial vehicles and passenger vehicles (selected models) that are imported and sold by Ideal Motors (Pvt.) Limited.
Considering the benefit to customers of purchasing vehicles from Ideal Motors, Sampath Bank offers a 0.25 percent reduction on interest rates for selected Mahindra commercial and passenger vehicles purchased from Ideal Motors. With this special rate reduction offered by Sampath Leasing, customers can now significantly save
per month.
In addition to the benefits offered by Sampath Leasing, Ideal Motors further provides safety and reliability by offering a free comprehensive vehicle insurance policy for the first year and /or free registration on Sampath Bank leases for selected vehicle models during the two-month promotion period.
Sampath Leasing has significantly continued to remain a successor in providing leasing solutions due to the various payment choices which are tailor made to provide customers with utmost convenience.