---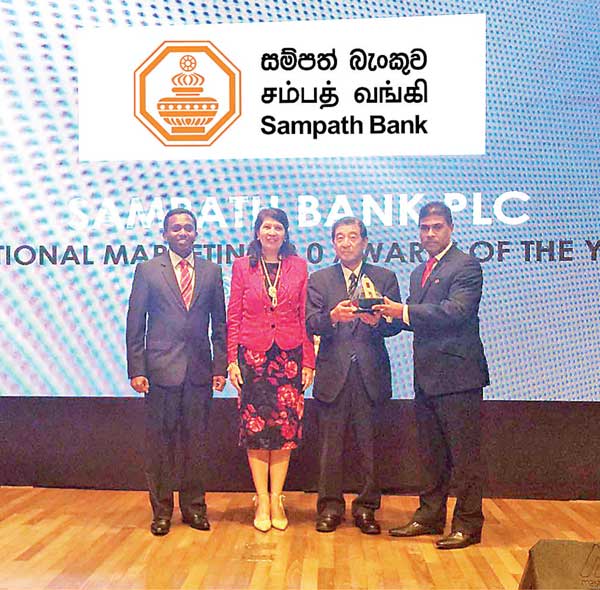 From left: Sampath Bank PLC Business/Product Analyst Nuwan Pathirana, AMF President Gwenn C. Albarracin, AMF Immediate Past President Takuya Goto and Sampath Bank PLC Senior DGM Consumer Banking Tharaka Ranwala
Continuing to reiterate its position as one of the leading private banks in Sri Lanka, Sampath Bank was feted as the National Winner of the Marketing 3.0 Award, a prestigious merit for marketing excellence presented by the Asia Marketing Federation (AMF) – the foremost governing body in Asia for marketing.

The award ceremony was held recently at KCCI, Seoul, South Korea. Marketing 3.0 Award and the Marketing Company of the Year Award are the main two awards presented by the AMF.
Nation-minded and upholding customer-centricity as a core value within its operating system, Sampath Bank was nominated for the Marketing 3.0 Award by the Sri Lankan Institute of Marketing (SLIM) – the national body for marketing in Sri Lanka.

The bank stood out amongst an array of competitors subsequent to this nomination and a rigorous evaluation process conducted by the SLIM and AMF.
Commenting on this achievement, Sampath Bank PLC Senior Deputy General Manager Consumer Banking Tharaka Ranwala said, "At Sampath Bank, we are driven towards upholding and maintaining a value system that places customers at the front-end of all banking operations. As a nation-minded and progressive bank, we continue to push boundaries and challenge ourselves in order to offer the most valuable services and benefits to the customers, which in turn uplifts their well-being and the growth of the country and the economy."

The AMF is a collaboration platform for all the marketing associations in Asia. Founded in 1991, the AMF has evolved with a critical mission to promote the interests of marketing in Asia and strengthening the Asian marketing fraternity.
Its member countries include Bangladesh, Sri Lanka, Cambodia, Hong Kong, Indonesia, Japan, Korea, Malaysia, the Philippines, Singapore, Taiwan and Thailand.