---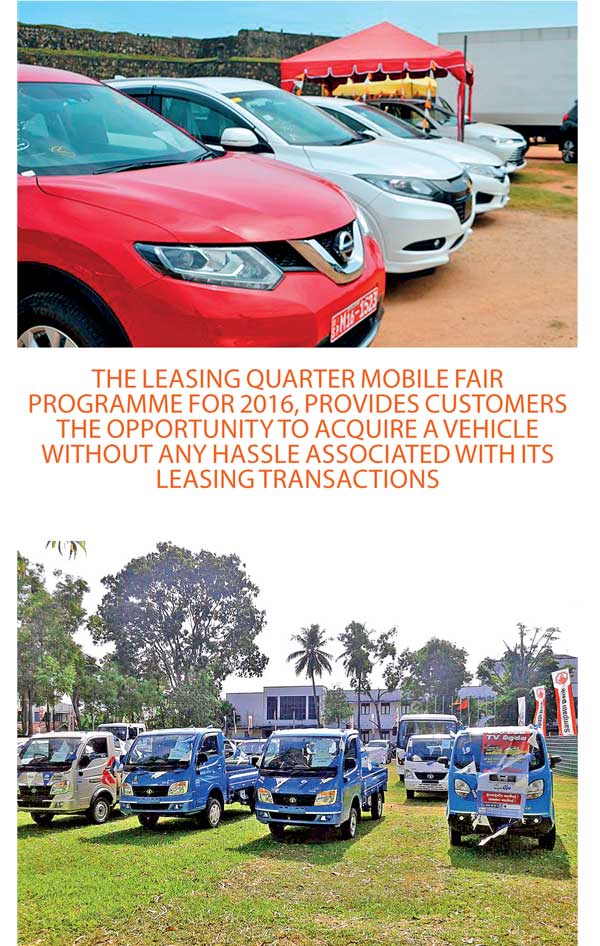 Continuing to provide the most convenient leasing solutions, Sampath Bank successfully completed its annual 'Leasing Waasi Thun Maase' mobile fairs islandwide.

The leasing quarter mobile fair programme for 2016, provides customers the opportunity to acquire a vehicle without any hassle associated with its leasing transactions.

Sampath Bank successfully conducted 10 mobile leasing fairs around the island with five major leasing fairs held in Maharagama, Kiribathgoda, Kandy, Galle and Negombo and five spot mobile fairs in Hatton, Nelliady, Morawaka, Gampaha and Vavuniya. These mobile leasing fairs saw an overwhelming participation of a large number of vehicle enthusiasts and vehicle dealers.

Customers applying for a leasing facility during the period from June to August 31, 2016 will be eligible for a Sampath credit card with no joining fee, as well as the annual fee for the first year completely waived off.
Furthermore, customers can utilize the obtained Sampath credit card to pay their vehicle insurance premium in convenient monthly instalments at zero interest plans. Customers can enjoy the benefits of this unique promotion by simply visiting any Sampath Bank branch islandwide and providing the minimal required documentation.

The Sampath Leasing stands out from its competitors due to its choicest solutions and convenience coupled with its unique payment methods, tailor made to provide the utmost convenience to customers. Sampath Bank works with each and every individual customer to identify their instalment structure for payments that is most appropriate according to each of their needs and earning capacity, thereby customizing the bank's service offering even further.