---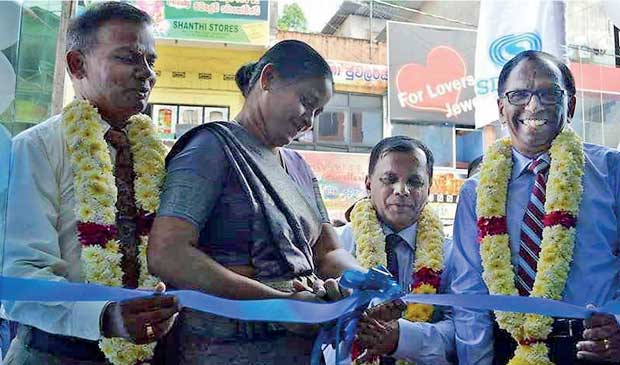 SDB Bank Chairperson Samadanie Kiriwandeniya ceremonially opens the new Bandarawela branch in the presence of SDB Bank Chief Operating Officer Kumar Mayadunne, Badulla District Government Agent and Badulla District Deputy Co-operative Commissioner
SDB Bank (Sanasa Development Bank PLC), celebrating its 20th anniversary as the pioneer bank to contribute the development of Sri Lankan rural economy, opens its 91st branch in Bandarawela yesterday, denoting yet another juncture of its successful journey.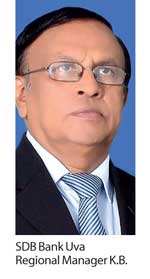 SDB Bank has been able to perform a giant role in the Sri Lankan microfinance sector during the past 20 years, relaunched its brand name as SDB Bank and introduced novel banking solutions for those who are in the small and medium sector to fulfil their saving, credit and other banking needs.
It is expected that the small and medium scale loan schemes introduced by SDB will assist the upliftment of the living standard of the people in the Bandarawela area, who live within an agriculture-based economic system.
The community in the Bandarawela area would be able to avail the benefits of various programmes conducted by SDB in collaboration with different institutions such as Industry and Commerce Ministry, Central Bank of Sri Lanka, Small Enterprise Development unit of National Policies and Economic Affairs Ministry, National Entrepreneurship Development Authority and Agriculture Ministry.
SDB has introduced a variety of banking products and services with a vast coverage of customers, from newborn babies to all categories of senior citizens. Those products and services come under different brand names of 'LakDaru' children's savings, 'SDB Dayada', 'Jawaya', 'Uththamavee', 'Upahara', 'Uttamachara', 'Dashaka', 'SDB Aayojana', 'Swarnakirana', 'SDB Leasing, SME Plus, etc, introduced to the convenience of the bank's customers.
Further, co-operative societies in the area too will be benefitted from the presence of SDB through its banking services as a bank emerged from the co-operative movement. Banking products for the co-operative sector are introduced under different brand names such as Pooled credit loan scheme, 'Prabodhani' loan scheme, Dairy industry promotion loan scheme and society loans, etc. to the convenience of its customers.
The Bandarawela branch was ceremonially opened by SDB Bank Chairperson Samadanie Kiriwandeniya with the participation of several distinguished invitees including Badulla District government agent, Badulla District deputy co-operative commissioner, Bandarawela Urban Council commissioner, Bandarawela and Diyathalawa DS Divisions divisional secretaries, SDB Bank Chief Operating Officer Kumar Mayadunne, SDB Bank Deputy General Manager W.D.K.R. Ranjith, SDB Bank Uva Regional Manager K.B. Rathnayake, SDB Bandarawela Branch Manager Sanjeewa Gamaarachchi along with the representatives of SDB management, representatives of the Bandarawela trade union and customers of the bank representing both public and private sectors.