---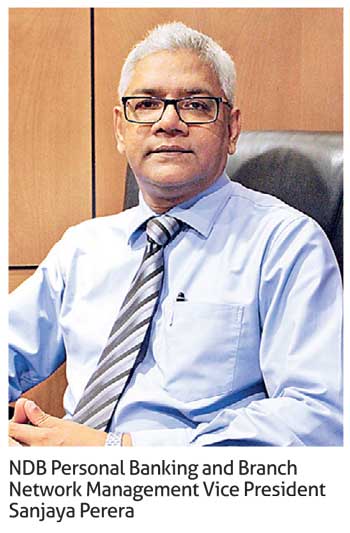 NDB introduced 'Business Class', a solution for businesses where access to an exclusive range of financial solutions is simply given by having a current account facility.

A range of benefits including special tariffs, extended banking hours through selected branches and consolidated e-statements are to name a few. Businesses are constantly abounded by different challenges regardless of its scale or nature. Growing revenue is the most common challenge across the board and whilst earning more revenue the business needs certain capital requirements for further expansion and development. Most businesses today stagnate at a certain level purely due to the lack of financial supervision and poor fund management. What is vital for any business to sustain is its strong relationship with a financial institution who would add in that required expertise.

Speaking on the service, NDB Personal Banking and Branch Network Management Vice President Sanjaya Perera said: "NDB has for decades been in the forefront of leveraging large scale development projects across the nation and with roots deeply embedded in this forte, still to date gives encouragement to forge businesses ahead. We have derived this service as an ideal solution for sole proprietorships, partnerships, private limited companies and existing NDB Current Account holders. The customer can avail this service with an initial deposit of Rs.500,000 or by maintaining a monthly average balance of Rs.500,000 for the past three months. We encourage Sri Lankan's to widen their horizons by making use of market opportunities to expand, strengthen or even begin their own businesses. As a bank, NDB is ready to lend you a hand and hope to see customers making the most of this exclusive service."

With NDB Business Class, customers will be able to also enjoy benefits of Import LC with pre-approved limits, bank guarantee with pre-approved limits, personalized service by a dedicated officer from NDB Trade Finance and concessionary tariffs. The proposition also facilitates discounts upto 25 percent on pay orders, draft issuance and manual salary transfers, external standing order fees waived off and much more.