---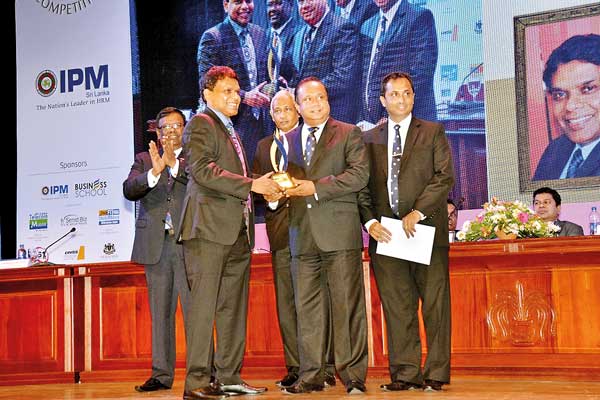 Ravi Jayawardena receiving award for 'People Leader in Marketing 2016' from Shantha Katapearachchi, member of the Panel of judges at IPM People Leaders' Awards. Rohitha Amarapala, President – IPM is also seen in the picture
Ravi Jayawardhena, Chief Executive Officer of Sales and Marketing at Maliban Biscuits Manufactories, was honored with the "People Leader in Marketing 2016"award by the Institute of Personnel Management (IPM) at a ceremony held at the BMICH, recently.

The People Leaders' Awards recognizes individuals who have made outstanding contributions in the fields of marketing, finance, supply chain, engineering and IT; through delivery of successful and superior people management practices in their respective industries.

Ravi who started his career at Maliban Biscuits in 2008 has played a key role in the company's progress and growth over the last few years. Since joining the company, Ravi has given new direction to both Maliban Biscuits and Maliban Milk by implementing corporate culture and strategy, andhas been instrumental in changing the Maliban brand position in the corporate world. With his multinational exposure, Ravi drew both companies
towards remarkable growth over the years.

Presently,Ravi is the only Sri Lankan in the Kantar Retail (formerly Glendenning consultancy) panel in the UK and has conducted training in Singapore, Malaysia (Unilever Regional Programme), India (British Petroleum Sales Team), and Bangladesh (Unilever senior sales team).
Hereceived his MBA from the Postgraduate Institute of Management – Sri Jayewardenepura (Sri Lanka)and Diploma in Marketing from Chartered Institute
of Marketing.

Evaluating his professional performance and contribution to the society during the last fifteen yearsin a 360 degree dimension, the Postgraduate Institute of Management Alumina (PIMA) awarded the prestigious "Platinum Honors" to Ravi Jayawardena in the year 2014.
In the year 2015 Ravi was awarded the prestigious Golden Globe Tigers Leadership Award for Excellence in Marketing & Brand Leadership in Malaysia by the CMO Asia.
Ravi started his professional carrier at Unilever Sri Lanka and thereafter joined Coca Cola Sri Lanka as Country Head of Sales where he led the team to win several Asian and African "Best Practice Awards". Ravi is also a renowned MBA and CIM lecturer and has lectures for the University of Cardiff (UK), University of Wales (UK), Mahatma Gandhi University (India), and Postgraduate Institute of Management (PIM – Sri Lanka).

The People Leaders' Awards spearheaded by IPM recognizes individuals who have made a passionate difference in people management in their respective fields. Applicants are evaluated and selected based on the five attributes of; developing people, supporting people performance, building organisational capability; mobilising individual commitment
and lastly displaying
personal character.