---
The Board of Directors of Union Bank of Colombo PLC announced the appointment of banker Priyantha Fernando as Deputy Chairman of the Bank.
Fernando's appointment comes in the wake of the retirement of Asoka De Silva from this position with effect from 29th May 2017,having completed his nine-year service period as per the corporate governance rules of the Central Bank of Sri Lanka.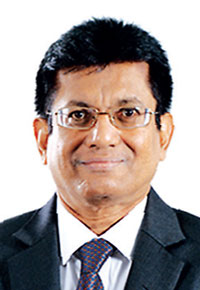 Prior to being appointed as Deputy Chairman of Union Bank on 30thMay 2017, Fernando served as an Independent Non-Executive Director on the bank's board for 6 years, while chairing the Integrated Risk Management Committee of the Bank and also serving as a member on the Board Audit Committee, Human Resources and Remuneration Committee and the Nomination Committee.
Priyantha Fernando counts more than 35 years of experience in the banking and finance sectors and was attached to the Central Bank of Sri Lanka serving in senior and diverse capacities. He served as the Deputy Governor of the Central Bank in 2010-2011, in charge of the Financial System Stability and the Corporate Service clusters.
Fernando possesses extensive experience and expertise in the fields of banking and financial sector regulation, information technology, national accounting and statistics, fund management and
risk management.
At the Central Bank, he served as Chairman of the Financial Stability Committee, a member of the Monetary Policy Committee, a member of the Risk Management Committee and the Chairman of the National Payment Council.
Fernando was an Ex-officio Board Member in several regulatory organizations, namely the Securities and Exchange Commission and the Insurance Board of Sri Lanka.
He also served as Chairman of the Credit Information Bureau, Institute of Bankers Sri Lanka and was a Board Member at Employers' Trust Fund, Lanka Clear (Pvt) Ltd and Lanka Financial Services Bureau. Also during his career he has initiated and spearheaded several key projects of national importance, especially in the area of the advancement of the national payments and settlement system.
Presently, he holds directorships at Commercial Leasing and Finance Company Ltd, Taprobane Holdings Ltd, Ceylon Leather Products PLC, Imperial Institute of Higher Education, Thomas Cook Travels Sri Lanka Pvt Ltd and Equi Capital Investments Ltd. Fernando is also the Chairman appointed by the Central Bank to the Golden Key Credit Card Company Limited and is the Chairman of Golden Key Hospitals Limited.