---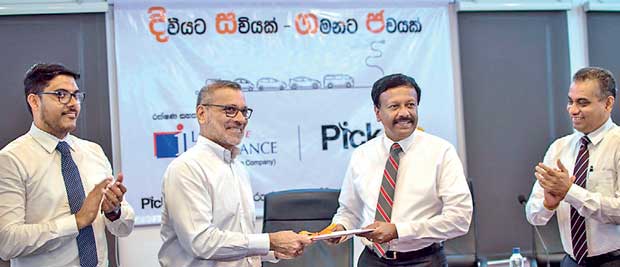 Ajit Gunewardene, Chairman of PickMe and Kapila Jayawardena, Managing Director/Chief Executive Officer of Lanka Orix Leasing Company PLC (LOLC) officially launching the life insurance for PickMe drivers; PickMe Chief Executive Officer Jiffry Zulfer (far left) and Nilanga Wickramasinghe, Chief Operating Officer of LOLC Insurance (far right) are also present
PickMe, Sri Lanka's leading taxi-hailing app, has partnered with LOLC Life Assurance, a fully-owned subsidiary of Lanka ORIX Leasing Company PLC to provide a valuable life insurance solution to its driver partner community. The tie up between these two companies makes it the first of its kind in the history of Sri Lanka's taxi service industry.
The life insurance cover by LOLC Life for PickMe drivers will offer a critical illness cover of Rs. 200,000, covering 29 critical illnesses. This also comes with a plethora of other benefits as well such as a death cover of Rs. 200,000, funeral expenses cover of Rs. 25,000, daily hospitalization cover of Rs. 2,000 and a total and permanent disablement cover of Rs. 200,000 in a situation of an accident.
"Through building a robust ecosystem via PickMe, we are enabling driver entrepreneurs to grow professionally and personally, while fueling the growth of mobility in Sri Lanka," Ajit Gunewardene, Chairman of PickMe expressed his views about this brand-new initiative. "While doing that, we are constantly monitoring the safety and welfare of our driver partners. The launch of this special life insurance for them, with the partnership of LOLC Life Assurance, is a stepping stone for ensuring that all our driver partners go back to their loved ones safely."
Nilanga Wickramasinghe, Chief Operating Officer of LOLC Insurance said, "We are pleased to tie up with PickMe, an industry disruptor that has set benchmarks in its services to customers and has transformed the lives of Sri Lankan commuters. This tie-up is aimed at providing PickMe's driver partners a comprehensive life insurance package and bring a smile to their faces by offering a range of key amenities through LOLC's life cover."
In the first round of offering, PickMe will be handpicking 1000 drivers with a star rating over 4.7 and offer them the life insurance solution from LOLC Life Assurance free. PickMe believes it is the right way to honour the best drivers of their fleet for offering an outstanding service to their customers.
Since its inception, PickMe has announced several social and financial benefits for its drivers. In last May, PickMe uplifted the spirit of their drivers with the launch of 'Lakshapathi Waram', a unique initiative to honour the values of their driver partners. The driver-rewarding scheme chose eight drivers and presented each of them with Rs. 100,000.
As the largest organized taxi platform in Sri Lanka, PickMe currently services the Colombo region's complete transportation needs and maintains a base of over half a million registered users of the PickMe app and a taxi fleet of over ten thousand, including three wheelers, mini cars, cars and vans.