---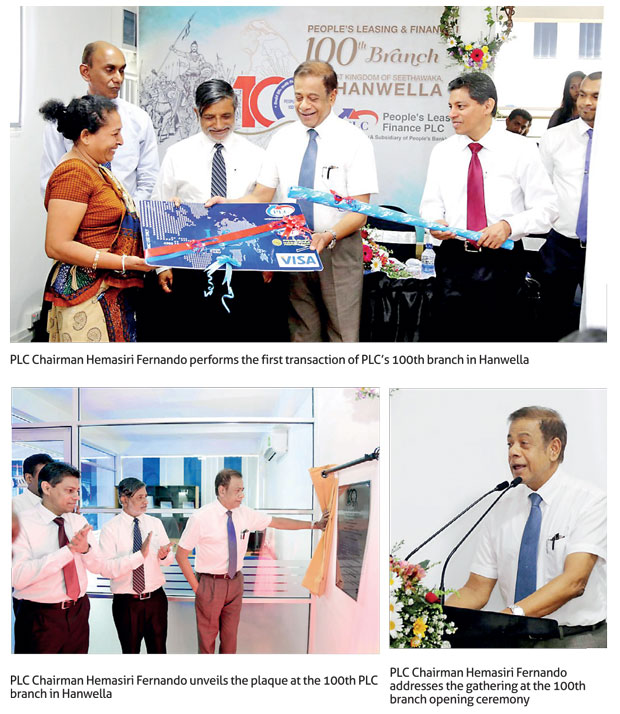 The leading non-bank finance company in Sri Lanka, People's Leasing & Finance PLC (PLC), opened its 100th branch in the Hanwella town (No: 132/3, Colombo Road, Hanwella) recently.
The new branch was declared open by PLC Chairman Hemasiri Fernando on the invitation of CEO/General Manager D.P. Kumarage.
PLC's maiden branch was commissioned in 1996 within the premises of People's Bank, Kandy.
The occasion of the 100th branch opening in Hanwella was also graced by PLC CEO Designate Sabri Ibrahim, senior management, special guests and customers.
While gracing the occasion, Fernando said that PLC maintained the position of market leadership for 14 consecutive years through its customer-friendly service.
"PLC is perceived by its customers as a trend-setting company that contributes towards uplifting the standards of society. PLC provides an unmatched finance service to all Sri Lankans. Our aim is to enhance our service quality level to cover all nooks and corners of the island for the benefit of citizens. A PLC branch was commissioned in almost every main city in the island within a span of 20 years with that objective," he added.
Fernando further said, "Today we have commenced a new phase of our branch network enhancement programme by commissioning the 100th branch in Hanwella. Sri Lankans can now obtain more focused value-added, convenient and hassle-free leasing and financial services at one-stop."
People's Leasing was incorporated in 1995 as a wholly-owned subsidiary of the biggest state bank in Sri Lanka,
People's Bank.