---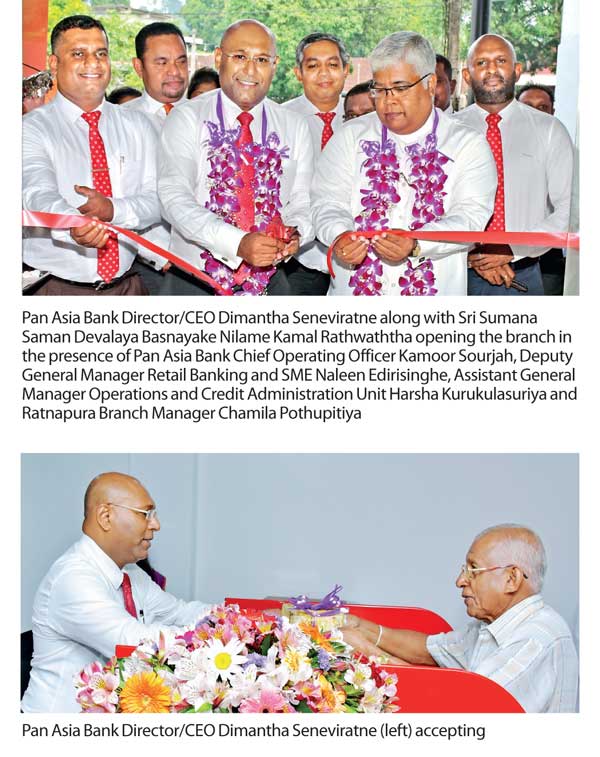 Pan Asia Bank ceremonially opened its Ratnapura branch at its new location on November 15, 2016 at No: 37, Bandaranayake Mawatha, Ratnapura.

Pan Asia Bank Director/Chief Executive Officer Dimantha Seneviratne was the chief guest at the opening and the senior management of the bank, members of the business community and customers in the area were among the other distinguished guests.

Speaking at the opening ceremony Seneviratne stated that Pan Asia Bank is extremely happy that they were able relocate the Ratnapura branch to a much spacious and convenient location for the benefit of its valued customers to offer fast innovative banking solutions that are based on understanding true customer requirements.

Pan Asia Bank, known for its innovative banking products and services, has consistently introduced novel banking products to the local market such as 'Daskam' children's savings account, which offers an additional 10 percent deposit on top of each and every deposit, with an enhanced interest of 8 percent and Champion Saver savings account, which offers up to 8 percent interest p.a. on savings deposits. The bank also offers among an array of other products including leasing facilities, credit cards and 'Sammana', an attractive guarantor-free personal loan facility up to Rs.1,500,000 offered to retired government servants and Central Bank pensioners.
Chamila Pothupitiya heads the Pan Asia Bank Ratnapura branch. The branch will be open from 9:00 a.m. to 6:00 p.m. on weekdays and from 9:00 a.m. to 1:00 p.m. on Saturdays.