---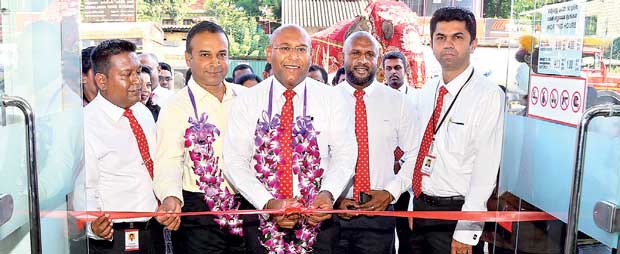 Pan Asia Bank Director/Chief Executive Officer Dimantha Senevirathna along with Jayasiri Motors Managing Director Chulani Weerasekara opens the branch in the presence of Deputy General Manager Retail Banking and SME Naleen Edirisinghe, Area Manager Central Yohan Ebel and Mawanella Branch Manager Chanaka Gunawardana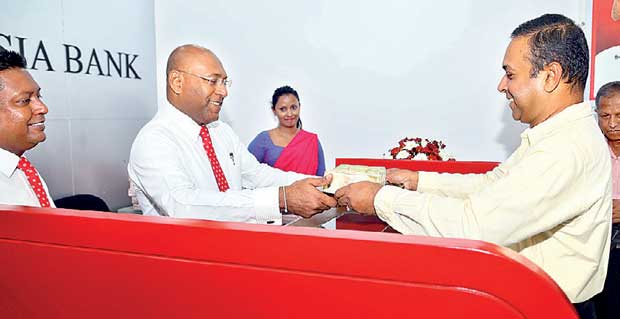 Pan Asia Bank Director/Chief Executive Officer Dimantha Senevirathna accepting the first deposit at the Mawanella branch opening
Pan Asia Bank ceremonially opened its 82nd branch in Mawanella yesterday at No 300, Kandy Road, Mawanella.
Pan Asia Bank Director/Chief Executive Officer Dimantha Senevirathna was the chief guest at the opening. The senior management of the bank, members of the business community and customers in the area were among the other distinguished guests.
Speaking at the opening ceremony Seneviratne stated that Pan Asia Bank is extremely happy that they were able to open the doors to fast innovative banking solutions that are based on understanding true customer requirements, to Mawanella. He further stated that as the fastest- growing commercial bank in Sri Lanka, it was fitting that Pan Asia Bank makes its presence in Mawanella being one of the rapidly growing cities in Sri Lanka.
Pan Asia Bank, which has been expanding the horizons of the local banking industry with its innovative banking products and impressive growth record, was recently recognized as the Fastest Growing Commercial Bank in Sri Lanka by Global Banking & Finance Review for the third consecutive year.
In addition, Pan Asia Bank's innovative children's savings product 'Daskam', which offers an additional 10 percent deposit on top of each and every customer deposit, with an enhanced interest rate of 8 percent (8.33 A.E.R) on the total balance, was awarded the Most Innovative Banking Product in Sri Lanka – 2016.
The bank has earned a strong reputation as an organisation that has consistently offered true value-added products to the Sri Lankan market over the years. Some of the innovative products that have been introduced recently are 'Aspire' higher education loan scheme, the 'Budget Leasing' product with a residual value which was recognized in 2015 as the Most Innovative Banking Product in Sri Lanka, 'Pan Asia Bank Black Master Card', which carries a low interest rate of 19.75 percent p.a. with no joining fees or hidden charges, the 'Champion Saver' savings account, which offers a high interest of up to 8 percent and the pioneering 'Sammana' loan scheme for pensioners which was recognized in 2014 as the Most Innovative Banking Product in Sri Lanka.
Pan Asia Bank Mawanella branch is headed by Chanaka Gunawardana. The branch will be open from 9:00 a.m. to 4:00 p.m. on weekdays and from 9:00 a.m. to 1:00 p.m. on Saturdays.