---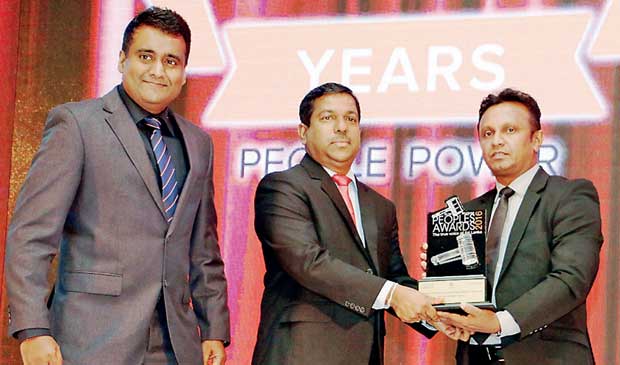 People's Leasing & Finance PLC DGM Operations Rohan Tennakoon receiving the award as the Best Financial Service Provider of the Year at SLIM Nielsen People's Awards 2016 from Asset Radio Broadcasting (Pvt.) Ltd Chief Marketing Officer Nishantha K. Dahanayake
People's Leasing & Finance PLC (PLC) was once again honoured with a coveted accolade as the 'Financial Service Provider of the Year' for the fourth consecutive year at the SLIM-Nielsen People's Awards 2016 ceremony held at Water's Edge, Battaramulla recently.
A large sample of 2,700 randomly selected individuals aged 15-60 years were interviewed in all 25 districts of Sri Lanka and asked about their favourite brands and service providers. The winners and nominees are those receiving the highest percentage of nominations. The winners are based on consumer responses or people's choice rather than on a decision of a panel of judges.
This prestigious annual premier marketing award is organised by the Sri Lanka Institute of Marketing (SLIM) – the national body of marketers in the country, in association with The Nielsen Company, the largest marketing research company in the world.
In its 20-year journey, PLC has earned for itself a reputation of upholding excellence in all aspects of its business. PLC is the foremost player in the leasing market in Sri Lanka with a near quarter of market share under its portfolio. The company has retained market leadership in leasing for 14 years consecutively.
With a galaxy of awards under its wing, PLC was also rated AA by the Brands Annual 2016 Edition, with a brand value Rs.7,588 million. Having launched its business operations in 1996, PLC celebrates its 20th anniversary this year. PLC is a licensed finance company listed on the Colombo Stock Exchange (CSE) and a subsidiary of People's Bank. PLC is also the largest non-bank finance institution in Sri Lanka in terms of the asset base.
The company is rated AA- (LK) by Fitch Ratings Lanka and internationally rated B+/B by Standard & Poor's (S&P) and B by Fitch International. This makes PLC the highest-rated finance company. It is also the only Sri Lankan finance company to have two international ratings. PLC has been included in the S&P Sri Lanka Index of the CSE since December 2014 where other constituents are the 20 largest blue-chip companies chosen from the all stocks listed on the CSE. The company was also ranked 17th amongst 'Top 25' listed companies of the CSE.
"We are honoured and proud to celebrate 20 years of existence in 2016 and when we look back at our track record of two decades, we have much to be proud about. Our brand is one of the most trusted and visible in the country and denotes reliability and integrity," said PLC Chief Executive Officer/General Manager D.P. Kumarage.
"Our high quality of service steered us to become the 'Choice of People'. We are committed to provide greater service and adapt to evolving customer needs so that the brand continues to resonate with potential customers well into the future," he noted.
"The brand's vast distribution channels enabled us to reach out and serve a wider customer base across the island. The brand intends to expand its presence to the North and East to further boost its wide reach in the interior of Sri Lanka. More and more customers are expecting service at their doorstep and we are making sure we can offer this service," Kumarage stated.
"'PLC Online' is one such initiative to cater to customer needs. The field force is equipped with palm top devices to take financial inclusive transactions to the doorstep of customers, so that they do not have to visit branches," he added.