---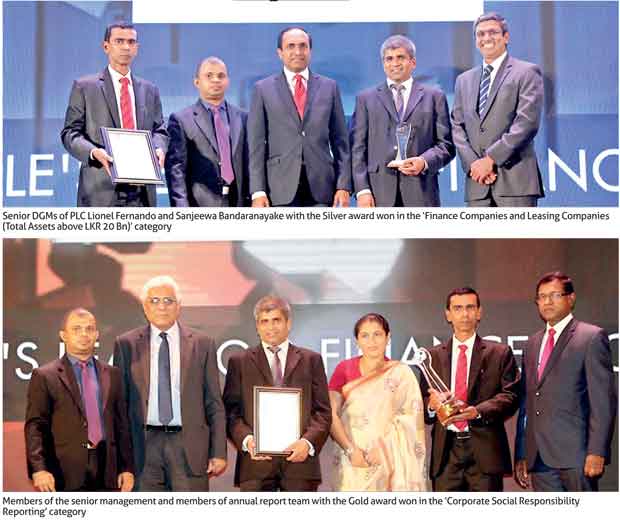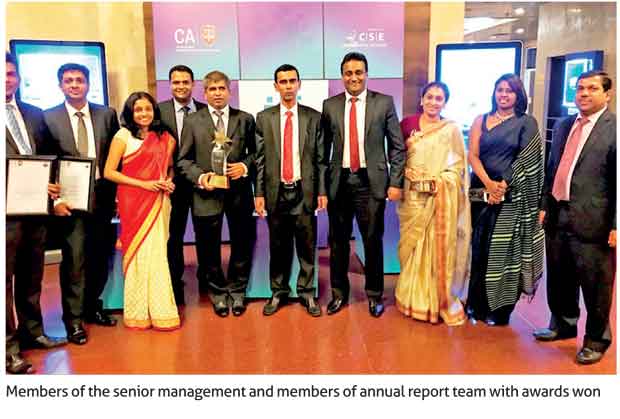 People's Leasing and Finance PLC (PLC), the leading non-bank finance company in Sri Lanka was conferred with two coveted Gold awards, a Silver award and a Bronze award at the 53rd edition of the 'CA Sri Lanka Annual Report Awards 2017' held at the BMICH, recently.

At this gala ceremony organised annually by the premier accounting body in the country, the Institute of Chartered Accountants of Sri Lanka, PLC's Annual Report for the financial year 2016/17 themed 'Collecting Moments' was recognised.

Cream of around 140 Sri Lanka's leading companies took part for this year's awards.

PLC's untiring and consistent efforts on integrated reporting were honored with a Gold award in the 'Best Disclosure on Business Model' category.

The company's noble CSR initiatives were recognised with a Gold award in the 'Corporate Social Responsibility Reporting' category.

PLC Annual Report secured the Silver award in a highly competitive category in the competition, the 'Finance Companies and Leasing Companies (Total Assets above LKR 20 Billion)' category.

The Management Discussion and Analysis of the Annual Report being the core of the Annual Report clinched the Bronze award in the 'Overall Management Commentary Award' category.

With these awards PLC excelled as the finance company that clinched the highest number of awards in this year's CA Sri Lanka Annual Report Awards competition.
PLC CEO/General Manager Sabry Ibrahim voicing his thoughts on the recognition bestowed upon the company commented: "The Institute of Chartered Accountants of Sri Lanka with its 'CA Sri Lanka Annual Report Awards' inspires companies to benchmark with best practices in effectively communicating with stakeholders."
He added: "PLC is committed to create value for its stakeholders. These prestigious awards won by PLC at the CA Sri Lanka Annual Report Awards 2017 are an endorsement on PLC's reporting and communicating capabilities and good governance. This recognition thus is testament to our dedication towards accountability and transparency."

People's Leasing Company was incorporated in 1995 as a wholly owned subsidiary of one of the largest state bank's in Sri Lanka, the People's Bank. The company has maintained its market leader states for 15 consecutive years in the non-bank finance sector in Sri Lanka.