---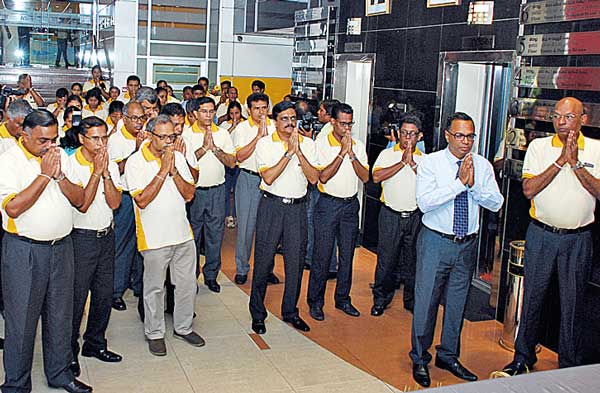 National Savings Bank recently completed the 44th year of its mission of saving. While assuring access to financial services for a greater majority of the people of this country and empowering them financially National Savings Bank has pioneered in creating and popularizing a savings culture among the people. National Savings Bank commemorated its 44th anniversary with a series of programmes in place and the main function was held on 16th March 2016 at the Head Office of the Bank. A multi religious ceremony was held to convey the blessings on the staff members and the customers of the Bank and all people of the country. In addition many programmes have been organized at the Branch level.
The "Aluth Avurudu Wasana Scheme" implemented by the Bank annually during the Sinhala/ Hindu New Year has been kicked off for the year 2016 afterwards at the Head Office Branch and 10 top customers of the Branch were offered New Year gift items to mark the event. The Chairman of National Savings Bank, Aswin de Silva, General Manager/ CEO, Dammika Perera and the Senior Management with the staff members of the Bank took part at the occasion. Aswin de Silva, Chairman of the Bank, making a comment at the occasion observed as follows. "The National Savings Bank (NSB) is campaigning to change the mindset of various social groups in Sri Lanka that the first thing they should do with their income is to allocate a portion of it for savings before starting to lay it out on various expenses.
When you do it that way, saving is the first bill you pay which you can feel safe and happy about, unlike many other expenses you have to meet afterwards. Everybody can save if they just started." Further speaking, the Chairman said that National Savings Bank always strive to encourage everyone to save making them aware of the undeniable value of saving and the Bank has taken measures to inculcate the habit of saving from childhood through school banks and to empower the members of forces and police through special savings schemes with special interest rates. "Just as the founders of the Bank envisaged we have been assigned the mandate of inculcating the habit of saving among the people, especially the rural and under banked masses of this country. At this moment where we celebrate the achievements of 44 years we pledge our constant effort to create a solid savings base for the country while ensuring the active participation of the people in the development process of the country." Dammika Perera, General Manager/CEO of National Savings Bank said.