---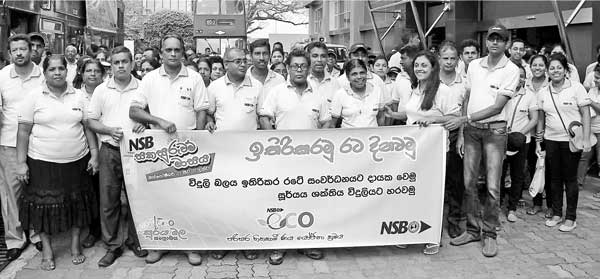 The National Savings Bank (NSB) is to conduct a number of programmes to educate people and children on the importance of saving during the Thrift Month, which kicks off from October 31.
One such programme is the 'Surya Bala Sangramaya,' which is to encourage people and their communities to save electricity for the future and use it more carefully. The other programmes are mainly focused by targeting children, the future of the country.

During the Thrift Month, NSB will be encouraging children to start a new savings account where the bank will also be depositing a substantial amount in their accounts. NSB will also select schools which have saved the most amount of money in NSB school banks, and financial support would be provided by the bank to uplift the conditions of these schools.

In an island-wide art competition which was held to mark the World Children's Day, NSB selected 135 winners from all nine provinces who are in their primary and secondary grades as well. The students who have excelled at the Grade 5 Scholarship Exam will be felicitated and children with special needs, who did pass the exams, will also be felicitated at a ceremony that will be held today (Monday, October 31) at Nelum Pokuna to mark the World Thrift Day.
Chairman of NSB, Aswin De Silva said that as the bank strives to meet its objectives for the future, which would reflect upon the bank's stakeholders, the foremost objective is to motivate and encourage people to save while the bank continues to provide them with the best returns.
"There is a need to increase the domestic savings rate in the country as it could lead to the increase of the development rate as well, and the value of savings needs to touch the hearts and minds of the people," he said.

The recent introduction of 'NSB Reach the Point of Savings' banking programme now give the access most people who is unable to come to a bank during the banking business hours in view of their various engagements , employment or business engagements.

Recently, Global Finance named NSB as the safest bank in Sri Lanka as part of an exclusive survey conducted in over 100 countries around the world to be published in the November 2016 issue.
Since its inception in 1972, NSB has become the savings pioneer in the country with over 12 million account holders and partnership with Postal network NSB has the largest reach to reach every corner of the country. It has a network of more than 250 branches with a 4000 employees, it also the largest contributor to government securities and government projects.