---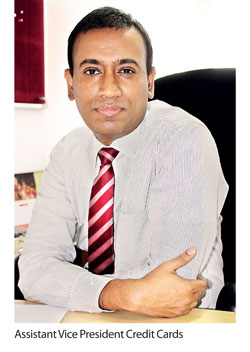 NDB in its effort to ease off consumer credit card burden, has launched its credit card balance transfer option earlier this year with attractive handling fees.

The repayment tenure of balance transfer is from 3 months to 36 months to suit the cardholders' financial commitments. The monthly fee is as lowest as 0.9 percent on the amounts transferred with no other extra charges/interest. This option would be beneficial especially during a time where consumers are most likely to be overwhelmed by credit card bills due to past seasonal spends.

Speaking about the balance transfer option, Zeyan Hameed–NDB's Assistant Vice President credit cards stated "As a bank that is concerned in continuously financially empowering our customers, this option will enable them to ease their credit card burden with this unique proposition."

Whilst credit card brings a whole heap of convenience and value additions, the natural inclination to 'buy now, pay later' at times lead some of us to severely stretched finances whilecredit card bills hit high. Therefore it is advisable to stick to a planned budget which would stop you from overspending and making an effort to pay your credit card balance on time to avoid unnecessary charges.

There are many ways to getting the most from your credit cards rather than having to face unwanted financial pressure.

While NDB advises you to use your credit card wisely, it also extends its balance transfer option to ease of your financial pressure.

Applications for NDB 'Good Life' credit cards could be made at any one of the NDB branches island wide. Further assistance and details on NDB 'Good Life' credit cards can be obtained from the bank's 24-hour call centre on 011 244 8888, visiting the bank's corporate website via www.ndbbank.com or referring to the dedicated digital page via www.ndbgoodlife.com