---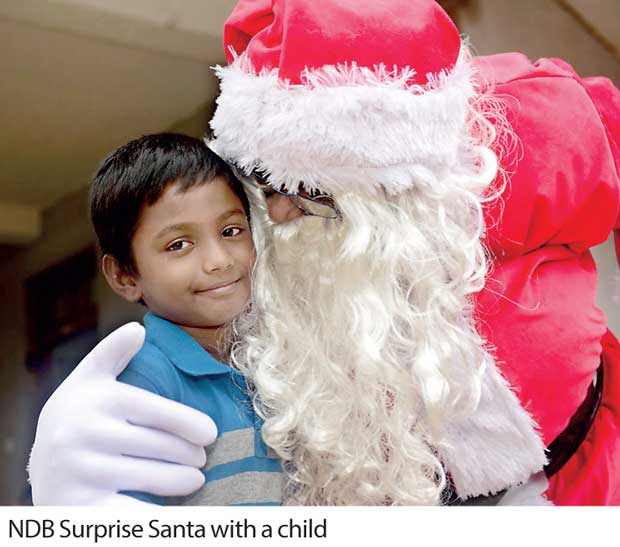 A child's greatest wish during the festive season is to see the famed Santa Clause bring gifts, and NDB made that wish come true.

During the Christmas week, NDB - accompanied by Santa Clause - made home visits to over 500 children, island wide, surprising them with gifts.
The bank taking yet another step forward towards fulfilling the demands of their young customers brought Santa right to their doorstep during the Christmas season.

During the NDB Santa promotion, parents deposited Rs.50,000 or more to their child's NBD Children's Savings account before December 15th, and selected a gift to be delivered to their child. The gifts ranged from scooters to melodicas and remote-controlled helicopters. Santa hand-delivered the selected gift to the child from December 21st to 24th.

The response to the NDB Santa promotion was immediate and islandwide, where accounts were opened from the Northern Province to the Southern. NDB's Santa visited a number of areas like Anuradhapura, Jaffna, Mahiyanganaya, Ampara, Hambantota and Colombo. The response from Kandy, Kilinochchi, Vavuniya and Kuliyapitiya was also significant.

One child, accepting the gift, said: "I have always wanted to see Santa Clause and NDB made that wish come true!"

NDB continuously strives to instill the joy of saving in the young generation. NDB Children's Savings is specifically designed to cater to each parent's unique needs while making savings more rewarding and exciting for the children at the same time.

During the promotion period, parents from all walks of life expressed their happiness at the simple delight NDB brought to their children.
"When we heard about the offer, we immediately went and deposited the money. Saving for the long term is often tedious for little children, but NDB makes it interesting and children are more enthusiastic about saving," a parent said.

The salient feature of the Children's Savings is the fun of receiving valuable gifts for the children whilst the account balance grows with a comprehensive savings plan. It is carefully designed in a way that the savings will prosper and reward the children and will also be entitled to substantial benefits for important milestones they achieve along the way.