---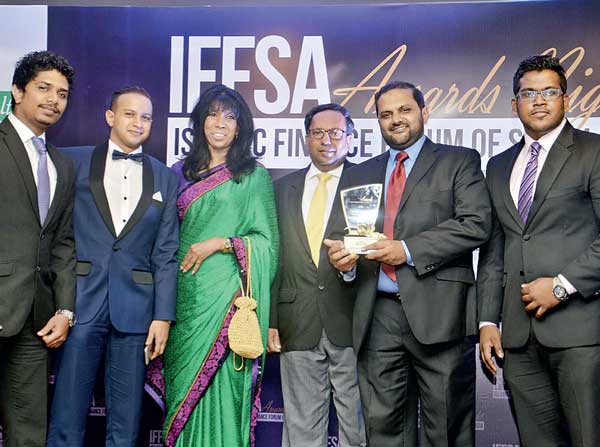 From left: NDB Senior Banking Associate Mufthi Mubarak, NDB Executive Credit Aslam Fidha, NDB Assistant Vice President Cash Management and Islamic Banking Camy Somasunderam, NDB Vice President Corporate Banking Buwaneka Perera, NDB Manager Islamic Banking Fariz Fuad and NDB Executive Operations Rifkhan Siddeak
NDB-Shareek, the Islamic banking unit of National Development Bank PLC (NDB), won the Gold award, emerging as the winner as the Immerging Islamic Finance Entity of the year 2015 by the Islamic Finance Forum of South Asia (IFFSA) held at Galadari Hotel Colombo recently.

The IFFSA award ceremony was the first annual event that recognizes the financial institutions and individuals who have outperformed in the Islamic banking and finance industry in the South Asian region. There was a good representation from India, Pakistan, Bangladesh and the Maldives at this annual award night.

NDB-Shareek was launched on August 12, 2014 as another strategic initiative of NDB to provide an alternative financing solution to its customers. NDB-Shareek comprises of a growing client base and a turnaround to a profitable business unit within a short period of time.

NDB Shareek was able to win the confidence of its depositors in terms of distributing the highest profits on the customer deposits.
The unit enables the customers from across the bank's network to efficiently operate with seamless integration through the bank's Islamic IT platform.
The award ceremony was organised by Uto.Edu Consult, ADL Capital with the assistance of KPMG, which had acted as a facilitator to assess the process of the selecting the winners judged by a panel of independent industry experts.

NDB remains dedicated to bringing its customers one step closer to accomplishing their lifelong ambitions and uplifting their standards of living through the range of services that is accessible through its growing branch network.