---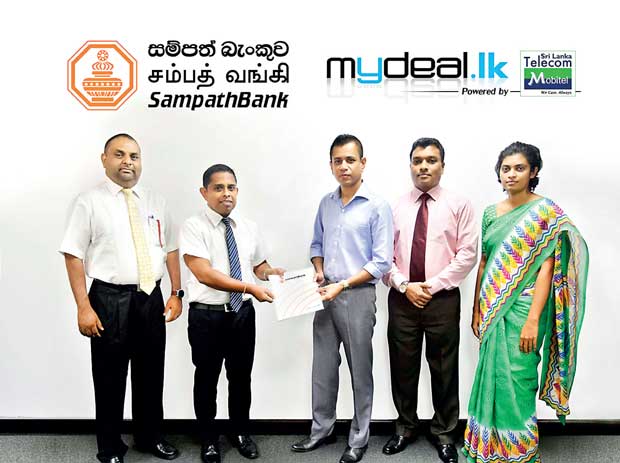 Officials from Sampath Bank and MyDeal.lk from left: Sampath Bank Chief Manager Electronic Delivery Channels Dushyantha Dassanayake, Sampath Bank Assistant General Manager New IT Business Development Rajendra Ranasinghe, MyDeal.lk (Pvt.) Ltd Managing Director Damitha Ginigaddarage, Executive Electronic Banking Channa Boyagoda and eCommerce Officer Erandi Gamage
MyDeal.lk in partnership with Sampath Bank PLC recently announced further enhancements to its e-commerce platform by introducing a card-less payment option for its growing customer base of tech-savvy shoppers.
In a bid to further simplify the online shopping experience, MyDeal.lk works hand in hand with the 'Sampath Vishwa' e-banking payment gateway to facilitate secure electronic card-less payments between MyDeal.lk and Sampath Bank account holders. Sampath account holders who use 'Sampath Vishwa' to shop on MyDeal.lk and MyStore.lk will get an additional 5 percent Discount on the selling price.
MyDeal.lk (Pvt.) Ltd is an e-Commerce establishment that offers impressive discounts on consumer products and services in the form of 'deals' to the growing online shopping community in Sri Lanka. MyDeal.lk promotes limited quantities of products of affiliated merchants at discounted rates using modern e-commerce methods such as Drop shipping, e-tailing and Flash Deals for the benefit of its customers and subscribers. Having experienced steady growth since its inception in 2011, MyDeal.lk has over 12,000 visits per day and offers a diverse range of product deals ranging from toys and fashion accessories to high-end electronics such as TVs, fridges and smartphones.
Sampath Vishwa (www.sampathvishwa.com) online banking facility of Sampath Bank offers a total online banking experience to the customer. This is one of the fastest growing Internet banking facilities in the banking industry where a customer experiences shorter user signup time, availability of a large number of biller options including telcos, schools, insurance, utility service providers, etc., transferring of funds to any bank and selected financial institutions with a few clicks 24 X 7, real-time transfers of funds to selected banks/institutes, transfer money to any mobile or CDMA phone through the unique Mobile Cash facility where the recipient can collect the funds through any Sampath Bank ATM located islandwide. Moreover, the product takes away the hassle of settling recurring payments with the unique feature of scheduling transactions.
The future-compatible card-less e-Shopping facility enables Sampath Bank customers to purchase high value deals items from MyDeal.lk without the need of credit cards or cash. From the comfort of their homes, Sampath Bank customers can now transfer payments electronically via the Sampath Vishwa online portal and enjoy the best deals in town on MyDeal.lk.