---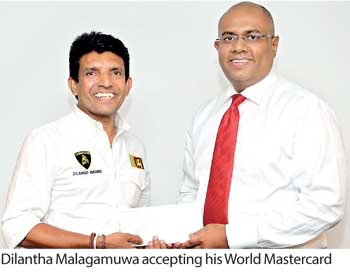 Sri Lankan motor racing champion Dilantha Malagamuwa recently became a Pan Asia Bank World Mastercard holder where he accepted his World Mastercard Credit Card from Pan Asia Bank's DGM- Marketing and Personal Banking Nalaka Wijayawardane at Pan Asia Bank head office.

Malagamuwa is the first and currently the only Sri Lankan to secure a world title in motorsports. Pan Asia Bank World Mastercard, one of the highest categories of Master Cards currently available in Sri Lanka offers an array of privileges across the globe, which is tailor made for unique lifestyle of its elite members.

Commenting on the issuance of a Pan Asia Bankcredit card to Malagamuwa, Nalaka Wijayawardane - DGM- Marketing and Personal Banking Pan Asia Bank said, "It is a privilege to have someone of the caliber of Malagamuwa using our credit card and we are certain that his new Credit Card will complement his global lifestyle as he is now entitled for a range of exclusive privileges around the world". He further added, "We thank Dilantha Malagamuwa for all his hard work and dedication to bring pride and international championships to our nation and we wish him good luck for all his future endeavors".