---
DFCC Bank PLC announced the appointment of Lakshman Silva as the bank's new CEO, with effect from August 16th.

With his extensive background and expertise in the financial services and banking industry, Lakshman Silva will help to steer DFCC Bank to become one of the foremost and respected commercial banks in the country, embracing a new era of innovation, digitalization and growth.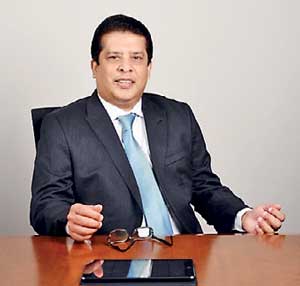 Silva has over 30 years of experience in the financial sector and holds an MBA from the Postgraduate Institute of Management of the University of Sri Jayewardenepura. He also received his B Com (Sp.) from the University of Kelaniya.

Commencing his professional career at the Department of Inland Revenue of Sri Lanka, he moved to the financial services industry and joined the DFCC Group in 1987.

He was instrumental in promoting and strengthening the diverse range of products and services DFCC bank offers its customers. He previously served as DFCC Vardhana Bank's Chief Operating Officer and was thereafter appointed as Chief Executive Officer in 2010. He served in this capacity and took on the position of Executive Director of DFCC Vardhana Bank until September 2015.
Following the amalgamation of DFCC Bank and DFCC Vardhana Bank, Lakshman Silva was appointed as the Deputy Chief Executive of the amalgamated DFCC Bank PLC. Following his appointment as CEO, he will now take over the strategic management and leadership of DFCC Bank driving the commercial banking business while continuing to promote and encourage project financing services with the expertise that DFCC has honed over six decades as one of the premier development banks in Asia.

Commenting on his new role as CEO of DFCC Bank PLC, Lakshman Silva said, "I am honoured to continue my journey with DFCC Bank, in the capacity of CEO. DFCC Bank is now a fully-fledged dynamic, commercial bank that has successfully evolved to meet the changing needs of consumers and businesses. The bank is focused on offering the best in customer service and providing tailor made financial solutions for Sri Lankans from all walks of life.

I look forward to the opportunity to build upon the current financial growth that the bank has displayed in recent years, whilst leading and executing the bank's long-term strategy in a way that adds value to our customers and shareholders. DFCC Bank is well poised to make a quantum leap in our business operations, both local and international, and I am excited to serve at the bank's helm during this momentous time."

Lakshman Silva has also served as a Past President of the Association of Professional Bankers of Sri Lanka. He is also a Director of Synapsys Limited, Acuity Securities Limited, Acuity Partners (Pvt) Limited, DFCC Consulting (Pvt) Limited, Lanka Ventures PLC, LVL Energy Fund Limited, Lanka Financial Services Bureau Limited, Lanka Industrial Estates Limited and Sri Lanka Banks Association (Guarantee) Limited.