---
Sri Lanka's third largest general insurer by gross written premiums (GWPs), Janashakthi Insurance PLC (Janashakthi) group, increased its June quarter (2Q16) net profit to Rs. 272.5 million or 50 cents a share from Rs.105.2 million recorded a year earlier, supported by strong growth in general insurance business.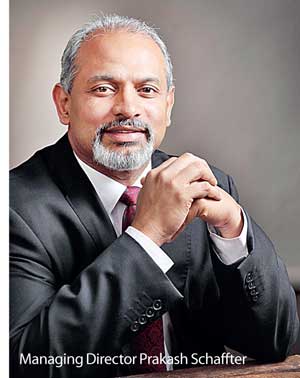 This translates in to a 159 percent growth over the corresponding period last year.
This was despite the higher benefits and claims paid during the period. The company expects at least Rs.4.6 billion of claims from the recent floods which wreaked havoc in some parts of the country bringing some commercial activities to a temporary halt.
The group paid Rs.1.68 billion in benefits and claims during the quarter, increasing from Rs.1.22 billion a year ago.
Since the acquisition of AIA General Insurance Lanka Limited in a deal worth Rs.3.2 billion in October 2015, Janashakthi has now become the third largest general insurer with market share of 17.5 percent based on GWP.
The non-life GWPs of the combined entity during the 2Q16 grew by 39 percent year-on-year (yoy) to Rs.2.43 billion while the motor insurance accounted for Rs.1.76 billion in the portfolio, which grew by a similar percentage.
The life insurance GWPs grew by 21.5 percent yoy to Rs. 757.1 million. The total GWPs of the group for the quarter was up 34.5 percent yoy to Rs.3.19 billion.
Despite the October acquisition, AIA was financially consolidated from January 29, 2016 hence this was the first full quarter of the Janashakthi group since the landmark acquisition, which resulted in goodwill of Rs.1.4 billion.
Sri Lanka's insurance industry is now in a consolidation mode as players are seen shedding their less profitable and highly competitive general insurance businesses to focus on life business.
In 2015 Union Assurance PLC divested 78 percent stake in its general business unit, Union Assurance General Limited to Fairfax Asia Limited for a total consideration of Rs.3.66 billion.
Thereafter in June 2016 Softlogic Holdings general insurance unit, Asian Alliance General Limited was sold to Fairfax Asia for Rs.1.27 billion.
Sri Lanka's non-life insurance market is dominated by motor insurance, which accounted for as much as 65 percent of gross written premiums in 2015.
Fitch Ratings in a recent sector update said the higher flood claims could affect some of the lower capitalized insurers and the situation could be further threatened by weaker profitability driven by intense competition in the non-life business, especially in motor insurance.
The state-owned re-insurer, National Insurance Trust Fund (NITF) estimated the total claims from the disaster to be around Rs.15.5 billion or US $ 107 million.
Janashakthi group for the six months ended in June 30, 2016 (1H16) recorded a net profit of Rs.630.1 million or Rs.1.60 a share recording an increase of close to 200 percent yoy.
The total GWPs for the 1H16 rose by 33.5 percent yoy to Rs. 6.5 billion.
Janashakthi meanwhile has entered into an agreement with Sanken Construction (Private) Limited to assign the leasehold rights of the property at No. 24, Staples Street, Colombo 02 for a consideration of Rs. 1.93 billion for which purpose the latter had already paid 50 percent advance.
"This transaction was to be concluded by March 25, 2016 subject to obtaining the approvals of the Urban Development Authority and cabinet of ministers. Janashakthi and Sanken Construction (Private) Limited have mutually agreed to extend the period up to September 25, 2016 and have entered into a Supplementary Agreement on March25 , 2016, pending approval of the cabinet of ministers," the company said in a note to the financial statements.
As of June 30, 2016, the holding company, Janashakthi PLC held 75.92 percent stake in the company while Dunamis Capital PLC held 3.17 percent stake being the second largest shareholders.
Bank of Ceylon held 2.03 percent stake being the third largest shareholder.