---
The Central Bank of Sri Lanka (CBSL), on behalf of the Democratic Socialist Republic of Sri Lanka, successfully launched and raised US$1.5 billion in a 10-year bond.
The transaction was the 11th US Dollar benchmark offering in the international bond markets by Sri Lanka since 2007. The issuance was priced with a coupon of 6.200 percent p.a., maturing on 11 May 2027.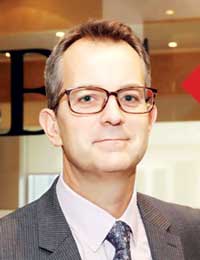 HSBC, which has been consistently ranked as the No.1 Debt Capital Markets Bookrunner in Asia acted as the Joint Lead Manager, Bookrunner and the Ratings Advisor for this issuance.
Mark Prothero, CEO HSBC Sri Lanka and Maldives said, "HSBC is proud to be the only bank to have consecutively partnered the Sovereign on all its bond issuances since 2007. The 10-year bond is another significant achievement for the Sovereign and demonstrates its ability to remain nimble and responsive to investor needs. The wide engagement from different pockets of interest further demonstrates the breadth of the Sovereign's investor base and confirms its position as a premier issuer in the capital market. Retracing our 125 year history in Sri Lanka, this manifests HSBC's strong and continued commitment to the economic development of the country."
Fitch Ratings, Moody's Investors Service and Standard and Poor's have rated the both Issues at 'B+', 'B1' and 'B+' respectively. The final order books stood at in excess of US$ 11 billion with an oversubscription ratio of 7.3 times spread across 500 participating accounts. The strong demand allowed the Sovereign to tighten final pricing to 6.2 percent per annum at par and reflected the continued confidence the international investor community has placed in Sri Lanka's strong credit story.