---

Hatton National Bank in its tireless efforts to cultivate the savings habit among children of all walks of life have been instrumental in many unique products and programs targeting this- our next generation. One such initiative is the school banking unit concept, which dates back to 1994.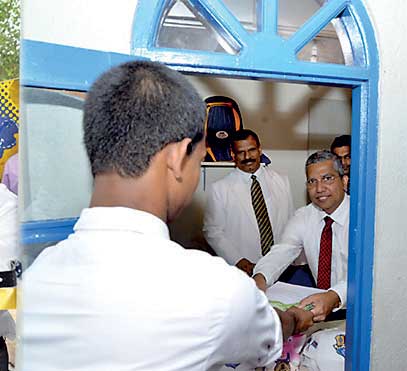 Since then the bank has setup 168 School Banking Units across Sri Lanka, where student managers are groomed to take leadership in running a mini bank in school and get actively involved in promoting the savings habit among fellow students. The bank has trained over 1,000 students in this capacity.
Commenting on this momentous occasion. Kalum Wijesooriya – Assistant General Manager Deposits & Remittances stated "as financial service organizations are seeking to become more innovative and entrepreneurial, we, HNB too believes in keeping abreast with these advancements, adopting the latest technologies into our banking operations ensuring efficiency and convenience to our customers. He went on to add "HNB's Home Counter service is one such innovation – this facilitates customer cash deposits at their door step, eliminating travel time and the hassle in traveling. The bank is planning to introduce this high-tech facility to all our school savings units toowith the Royal College Student Savings Unit been the pilot project" he concluded. Student savings units were first introduced to the Sri Lankan banking landscape by HNB, withthe Royal College Student Savings Unit been the first of its kind established in 1994, HNB thought it only proper in commencing the revolutionary upgrade with the same student savings unit. In order to facilitate this technological advancement the college savings unit has been fully refurbished and was re-opened under the patronage of the Principal of Royal College B.A. Abeyrathne and Viraj Mendis ,Head of Personal Financial Services of HNB.