---
Hatton National Bank (HNB) has recently embarked on the third phase of its repositioning strategy under which its overarching commitment has been to deliver 'Banking Beyond Transactions'. The bank has embraced a divergent approach of taking the bank to the street, a proactive customer-acquisition mindset. This resonates with a global shift where customers no longer wish to walk into banks, instead utilizing the conveniences offered through ATMs, Internet and mobile banking and personalized services.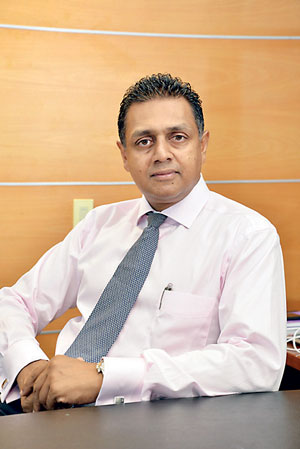 For Sri Lanka, this remains a major change in mindset and HNB's challenge was to inspire its employees to move out from behind their desks to the customer contact frontlines. Over the past 18-24 months, HNB has empowered its staff by giving them the right training, tools and incentives
for the transition.
HNB Deputy General Manager Retail and SME Banking Thimal Perera speaking about the shift said, "We have achieved this in three ways – first by simplifying our processes to optimize our operating model; second, we have offered alternate channels such as Internet and mobile banking for routine transactions thereby freeing up our branches to focus on sales and service; and thirdly, we have opted for the centralization of tasks such as branch operations and credit underwriting, which has meant that our branch and regional heads can now spend more time
building relationships."
In today's banking environment, there is no promotion, nor marketing campaign that cannot be replicated by competitors; going forward, the only differentiating factor therefore will be service excellence. Perera pointed out that the bank has now appointed customer experience officers to optimize its service promise.
He said, "Our service focus includes a very deep look at the entire experience of a customer who banks with us. Across our operations, we have taken a critical look at why we do things the way we do them and we have been swift to start making changes where we felt they were needed. For example, we are a bank with a history of 128 years and naturally, we found many practices that have been handed down through the years, which needed to evolve. By putting the customer at the heart of the solution, we have been able to simplify our processes and identify conveniences that matter."
As part of its technology leadership drive, HNB has been at the forefront of manipulating technology for customer convenience; it has dominated the crossover of tech into the banking space to provide better solutions that meet the existing and anticipated customer needs. Today, technology has been well integrated across the bank's business verticals – from trade finance in corporate banking and corporate Internet banking, to the distributor and supplier financing for small and medium enterprise (SME) clients, the pay fast salary processing platform for retail clients and Internet and mobile banking platforms.
Perera emphasized, "Our product design process takes care to ensure that we are not innovating for the mere sake of an exciting innovation; our emphasis is purely on innovating to meet a real need and to deliver convenience. A good example of this has been our youth prepaid account: we realized the challenge most parents face when it comes to handing pocket money to their children. Our solution was a prepaid card that allows parents full control from loading money remotely, to controlling where the card is used and being alerted when a transaction has been performed.
Another good illustration of listening to customer needs would be our inward remittance innovation where HNB customers are now able to make payments to anyone anywhere in Sri Lanka through ATMs. This was in response to the prevalence of many domestic employees in Colombo who had monetary responsibilities in their hometowns. The service allows customers to use an ATM or mobile banking to initiate the service with the recipient receiving half a PIN on his mobile device via SMS; the sender provides the other half of the PIN to ensure dual authentication. Receivers are then able to withdraw the funds through a cardless transaction via ATM." Propelling the bank to being ahead of the curve has also meant acquiring intelligence and data mining capabilities that provide deep insights into customer and industry behaviour. HNB has utilized its extensive network of customer touch points including a 250 strong branch network to build its knowledge base; by mining that data, the bank is able to respond with agility to market threats and opportunities.
As a systemically important bank, HNB's responsibility extends to the provision of banking access to the very grassroots of Sri Lanka; the bank's customer profile and product portfolio reflect the balance of its services to serve as a meaningful partner in everyone's progress. HNB has a solid presence in the microfinance environment through its subsidiary HNB Grameen, a strong SME portfolio that has many success stories within it, and a corporate banking arm that boasts of a clientele representing the biggest businesses in the country. In the retail banking space, HNB has stamped its leadership having been named Best Retail Bank in Sri Lanka by the Asian Banker Magazine on eight occasions, including 2015.
During the coming year, the bank is looking at extending its leadership in several key segments including the housing loan market. Its flagship Shanthi home loans product now offers tripartite agreements with high-rise building developers, simplifying the purchase for a buyer. Shanthi home loans have introduced mobile mortgage advisors who are able to meet the customers anywhere at their convenience. The bank is also considering leasing a thrust area – the past year has seen a doubling of the HNB leasing portfolio – the largest among banks. HNB's credit card operations have also been a lucrative segment for the bank and its proposition that includes excellent seasonal offers has been much sought after by customers.